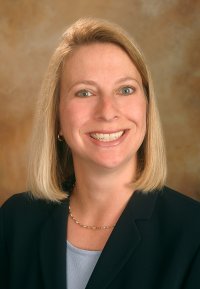 Jennifer Wamsley has joined the CSM Foundation board of directors. Wamsley is a partner and co-founder of Murray, Wamsley and Schrader, L.L.C. of California, Md. (Submitted photo)
LA PLATA, Md. (October 8, 2010)—The College of Southern Maryland Foundation has announced the addition of Jennifer Wamsley to the foundation board of directors. Wamsley is a partner and co-founder of Murray, Wamsley and Schrader, L.L.C. of California, Md.
"I am looking forward to being part of such a wonderful group working to support the College of Southern Maryland," said Wamsley. "CSM not only provides opportunities to students in our community but also all citizens of Southern Maryland. I recently attended the opening of the Aquatics and Wellness Center at the Leonardtown Campus and was impressed by the diversity of the people using the facility that day. Senior citizens were benefitting from the facility alongside students. CSM has provided wonderful resources to students of all ages and the people of Southern Maryland."
Wamsley has worked in the field of public accounting her entire career. She began with a certified public accounting (CPA) firm in West Virginia where she performed audits of commercial businesses, health care institutions and banks. She relocated to Southern Maryland in 1988 where she began working for a local CPA firm as an in-charge accountant. Subsequently, as a manager, Wamsley performed audits of nonprofit organizations and local governments, prepared income tax returns, and provided computer accounting system installation and training services to corporate clients. In 1994, Wamsley partnered with Mary Ann Murray to form Murray & Wamsley, L.L.C. specialized in accounting, audit and tax services for small to medium-sized privately held companies and nonprofit entities as well as individual income taxation.
Wamsley graduated Magna Cum Laude in 1986 from West Virginia Institute of Technology with bachelor of science degrees in accounting and computer management /data processing. She is a member of the American Institute of Certified Public Accountants (AICPA) and the Maryland Association of Certified Public Accountants (MACPA).
Wamsley served on the board of directors for the St. Mary's County Sunshine Center for 12 years, during which time the center purchased property and constructed a new facility to meet the increasing demands for quality day care in St. Mary's County.
The CSM Foundation marks its 40th anniversary as the fundraising arm of CSM in 2010. This year the foundation celebrates the outstanding educational opportunities and services that have been provided to the Southern Maryland community and students, and acknowledges the fundraising and friend-raising efforts of its volunteer board, composed of 79 members through the years.
For information on contributing to the CSM Foundation scholarship fund, visit
http://www.csmd.edu/foundation/
.
Source: College of Southern Maryland