By ABBY BROWNBACK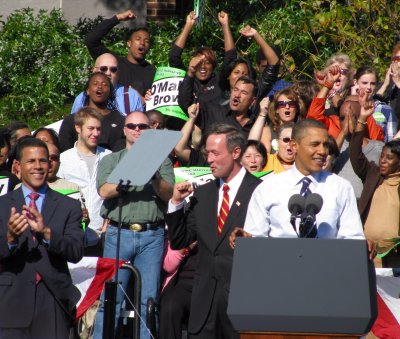 President Obama, on stage with Gov. Martin O'Malley and Lt. Gov. Anthony Brown, encourages the crowd to vote for Democrats in November at a rally Thursday at Bowie State University. Capital News Service Photo by Alix Farr.
BOWIE, Md. (October 8, 2010)—President Obama recalled the spirit of his 2008 campaign Thursday at a rally at Bowie State University, calling on Marylanders to re-elect Democrats who he said are crucial to moving the country forward.
"I'm going to need you just as fired up as you were in 2008," the president told the crowd. "If everybody who showed up in 2008 shows up, I'm absolutely confident we'll win."
The president, whose approval rating is hovering around 44 percent, hasn't had candidates clamoring to appear with him in advance of November's midterm elections.
But Gov. Martin O'Malley, who faces former Gov. Bob Ehrlich in November, has a close working relationship with Obama and is betting the president is still popular enough in Maryland to help O'Malley win a second term.
"His message that we need to move forward resonates throughout the state," O'Malley said. "(Marylanders) supported the president with one of the highest vote totals in the country."
Since last summer's heated town hall meetings on health care reform, the president's approval ratings started to slide, and Democrats in battleground states became less welcoming to the president, said Daniel Palazzolo, a professor of political science at the University of Richmond.
"It's the first evidence we've seen of a Democratic statewide candidate really embracing the president," Palazzolo said.
O'Malley won't feel nearly the political backlash from tying himself to an unpopular president as a gubernatorial candidate might in other states. The governor's appearance with the president will hurt him only in the western and southern regions of the state and in the Eastern Shore, areas he will not win anyway, said Todd Eberly, the interim director of the Center for the Study of Democracy at St. Mary's College of Maryland.
O'Malley recognized this himself.
"Most people who have made up their minds not to vote for me know I'm a Democrat and I support President Obama," he said.
In Baltimore, Prince George's County and Montgomery County, Obama's endorsement likely will generate enthusiasm among the high concentrations of working-class families and African-Americans, Eberly said. Because of these demographics, scheduling the rally at a historically black university in a predominantly African-American county is smart politics.
"The O'Malley camp knows they're locked in a tight race with Bob Ehrlich and they desperately need to turn out African-American voters," he said. "There is concern that African-American voters won't turn out in the numbers they did in 2008, because the president isn't on the ballot."
O'Malley said the rally took place at Bowie State because it's in Prince George's County and "Prince George's County is so critical to the outcome of this election." But also, the governor said, "It is part of the effort to rally the base of Democrats and especially to reach out to younger voters who elected the president in such overwhelming numbers two years ago."
The national strategy is to use the president to do just that - enthuse the Democratic base with which he remains popular, Palazzolo said. And a good chunk of that Democratic base in Maryland is found in Prince George's County.
"Candidates are strategic actors," Palazzolo said. "They make rational decisions.
"O'Malley must know something that leads him to believe the president can help him increase voter turnout among Democratic voters."
Alfonso Powell, a businessman in Prince George's County, said the president's stump speech for O'Malley fired up Democrats and certainly will bring them to the polls.
"There's something magic about being in (Obama's) presence," he said.
But the effect of any presidential endorsement or appearance is a function of how popular the president is and the nature of the state's electoral base, Palazzolo said. In a heavily Democratic state like Maryland, if Obama can help get the party to the polls, O'Malley is in good shape.
The president isn't likely to be invited to many other states, though, Palazzolo said, and this isn't an unusual position.
In 1982, President Reagan's approval rating sat around 42 percent, and in 1994, when 46 percent of the country approved of the job President Clinton was doing, Democrats distanced themselves from him.
"Where Barack Obama is right now is akin to where Bill Clinton was in 1994, with his approval rating under water," Eberly said. "People avoided him."
Ehrlich spokesman Andy Barth said there is no way to gauge the effect of Obama's appearance on the election.
Capital News Service's Shannon Hoffman contributed to this report.