LEONARDTOWN, Md. (October 7, 2010)—The St. Mary's County Bureau of Criminal Investigations (BCI) Narcotics Division recently released the following incident and arrest reports. The Division is an investigative team comprised of detectives from the St. Mary's County Sheriff's Office, Maryland State Police Drug Enforcement Division and Federal Drug Agents (HIDTA Group 34). The Division was established on September 1st, 2007 and is based in St. Mary's County.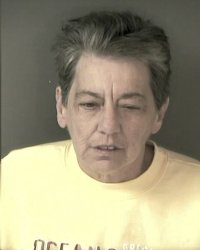 DISTRIBUTION OF OXYCODONE: Shirley Ann Morris, 66, of Avenue, pictured at left, was arrested on three open Grand Jury warrants for distribution of Oxycodone. Detectives received information that Suspect Morris was distributing Oxycodone and other prescription medication from her home. Several undercover purchases of Oxycodone were made. The case was reviewed with State's Attorney Richard D. Fritz and the St. Mary's County Grand Jury handed down the Indictment. Suspect Morris was originally held without bond and her current bond status is unknown.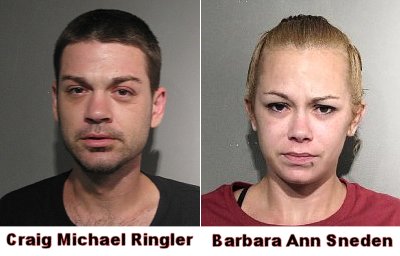 FRAUDULENT PRESCRIPTIONS: Detectives were contacted after several prescriptions pad were stolen from the Bean Medical Center. Barbara Ann Sneden, 25, of Mechanicsville, was developed as a suspect. Fraudulent prescriptions began to surface at pharmacies in several counties including St. Mary's. As the investigation continued, Craig Michael Ringler, 28, of Mechanicsville, was also identified as a suspect. So far, nearly 60 prescriptions have been identified as being forged and uttered from the stolen pads. It is possible that ten additional people will be charged in this theft scheme. Suspects Sneden and Ringler were located at a California hotel and detained. A search and seizure warrant was obtained and executed. Oxycontin, Oxycodone, stolen prescription forms, forged and fraudulent prescriptions, and paraphernalia were recovered. The suspects were charged and numerous other charges and arrests are pending a review with State's Attorney Richard D. Fritz.
POSSESSION OF MARIJUANA, COCAINE: William Joseph Newland, 51, of California, was charged after a search and seizure warrant was executed on the home in which he resides. He was found to be in possession of marijuana, cocaine and related paraphernalia. Several firearms were seized as well and additional charges are pending.