LEONARDTOWN, Md. (October 7, 2010)—The St. Mary's County Sheriff's Office recently released the following incident and arrest reports.
SECOND DEGREE ASSAULT: On October 5, deputies responded to a report of an assault on Sunflower Street in Great Mills. Investigation revealed Lenny Veoll Epps, 48 of Great Mills, was engaged in a verbal dispute with the victim which escalated into a physical assault when Epps pushed the victim causing her to fall and sustain injury. Epps was arrested and charged with second degree assault.
TRESPASSING: On October 5, Deputy Nielson observed Peggy Lynn Jones, 36 of no fixed address, walking through Millison Plaza Shopping Center. Jones had been previously served with a notice not to trespass on the property of Millison Plaza. Jones was arrested and charged with trespassing.
ARMED ROBBERY: On September 30 at 10:00 p.m., two African-American males, dressed in all black clothing and ski type masks, armed with an unknown make and model handgun, entered the McKay's Food and Drug on Hollywood Road in Hollywood and robbed the business of an undisclosed amount of money. The suspects fled in a dark colored—possibly dark green or black—sport utility-style vehicle. Anyone with information regarding the robbery is asked to contact Det./Dfc. R. McCoy at 301-475-4200 Ext. 9119 or Sgt. S. Myers at 301-475-4200 Ext.9049. You can also text message information at TIPS 239 plus your message to 274-637 (CRIMES) or by calling Crime Solvers at 301-475-3333. The incident is being investigated by the St. Mary's County Bureau of Criminal Investigations.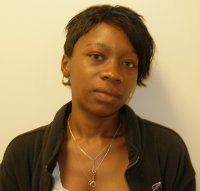 Nicole Denise Ulmer, 25, of St. Inigoes, was arrested and charged in connection with a bomb threat called into the Leonardtown ECC Wednesday. (Arrest photo)
BOMB THREAT: On October 6, the threat of a destructive device (bomb) was received at the Emergency Communications Center (ECC) in Leonardtown. The caller indicated the device would be inside the ECC facility. As a result of the perceived threat, operations were transferred to the backup communication center handling police, fire/EMS communications, along with critical 911 functions, without interruption. Officers from the State Police and Sheriff's Office responded to ensure the safety of employees and to secure the scene. Members of the K-9 Unit responded with specially trained explosive detecting dogs. The facility was checked for destructive devices. None were located.
BCI detectives assumed the investigation and subsequently identified Nicole Denise Ulmer, a black female, age 25, of St. Inigoes, as the person who telephoned the threat to ECC. Ulmer was arrested at her residence, charged with making a False Report of a Destructive Device and Telephone Misuse by BCI Detectives. Ulmer was transported to the St. Mary's County Detention Center and is currently incarcerated pending an appearance before the District Court Commissioner.