By JON AERTS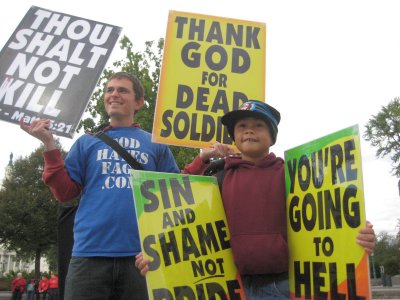 Cousins and Westboro Baptist Church members Jacob Phelps, 27, and Daniel Phelps, 9, stand outside the Supreme Court with anti-gay protest signs. Capital News Service Photo by Jon Aerts.
WASHINGTON (October 6, 2010)—Inside a packed courtroom Wednesday, all nine Supreme Court justices grappled with whether—
and to what degree
—
the funeral of a fallen soldier is a public or private event.

The case originated with the soldier's father, Albert Snyder, who is seeking redress over the presence of seven Westboro Baptist Church demonstrators wielding "God Hates You" and "Semper Fi Fags" signs outside the 2006 funeral of his son, Marine Lance Cpl. Matthew Snyder.

Led by Pastor Fred Phelps, the protesters blame America's tolerance of homosexuality for the deaths of soldiers and events like the terrorist attacks of Sept. 11, 2001. Their message had nothing to do with Cpl. Snyder's life.

Following the protest, a Baltimore jury sided with the father's claims of emotional distress by awarding him nearly $11 million, which was then halved by the trial judge and later wiped out by a federal appeals court in 2009.

Legal experts say that the Supreme Court's decision, expected by July, could result in a significant recasting of portions of established First Amendment law.

Inside the courtroom, Snyder's attorney, Sean E. Summers, wrangled with the justices over the soldier's funeral service, at one point quibbling over who the protesters' signs
—
many of which included the word "you"
—
actually referred to.

"It sounds like the 'you' is the whole rotten society," Justice Ruth Bader Ginsberg said of the signs, which were used in Annapolis later that same day.

Summers disagreed, saying the signs referred directly to the Snyder family, citing a video posted online by Westboro sometime after the March 2006 protest that specifically invokes Matthew Snyder and his family's name.

Despite the connection, Justice Antonin Scalia, too, expressed doubt over the lawsuit. "What does that have to do with the funeral?" he asked. "That's one of the problems I have with the case."

The justices also questioned how Snyder was actually affected by the signs, which Snyder could not see but learned of shortly after the funeral through a televised news report.

Summers summed up his argument by saying that the Snyder's private funeral deserved more protection from Westboro's targeted message.

Margie Phelps, the daughter of and attorney representing Pastor Phelps and his church, also faced sharp questions before the court. Perhaps the most vocal of the panel was Justice Samuel Alito.

Alito presented Phelps with a hypothetical situation, expanding the case scenario by asking whether a grandmother who'd raised her grandson, who was killed by a bomb, could be harassed over it upon returning from his burial. "Is that protected by the First Amendment?" he asked Phelps.

Phelps deflected, saying it "depends on context" more than once during her 30 minutes before the panel of judges.

"It's a grandmother," Alito shot back.

"I'm reluctant to say it (the First Amendment) does not," Phelps later conceded, but quickly added that the hypothetical didn't much match the case at hand.

The justices focused largely on the private versus public distinction.

Phelps argued the fact that the father provided information to a newspaper for his son's burial made the funeral public.

Following the trial, a visibly fired up Phelps spoke to dozens of cameras and reporters outside the courthouse.

"Of course we're seeking maximum exposure," she said of Westboro's tactics. "Look," she later said, "you all know that people put obituaries in the newspaper with the day, time and location of funerals because they want the public to come and bow down to that dead body," she said. "Now you don't get to do that—as they say, 'Have your cake and eat it, too'—without people answering when you go into the public airwaves."

"There's no line that can be drawn here without shutting down a lot of speech," she said.

Minutes later, Albert Snyder also spoke before the cameras, calling Westboro's picketing "utterly intolerable in a civilized nation."

His lawyer said slippery slope arguments concerning free speech can go both ways in cases like this, later adding: By Westboro's logic, "every death of a child would be a public event."

Whatever the outcome, Westboro remains committed to delivering its message, which was evident even before the 10 a.m. trial kicked off. In fact, several picketers could be found outside the courthouse, including 9-year-old Daniel Phelps, who held a "You're Going to Hell" sign.

"This is called child abuse," one passerby said of Daniel, to which his cousin, Jacob Phelps, 27, promptly replied: "Oh, did somebody's feelings get hurt?" he asked. "You want to deprive this boy of his right to protest."

When asked why he was there, the boy said: "Because we can picket this thing and make this thing explode....And be one step closer to leaving this country behind."

Capital News Service contributed to this report.

RELATED INFORMATION:

Other Stories Involving the Westboro Baptist Church
http://search.somd.com/search.cgi?t=news&q=Westboro+Baptist