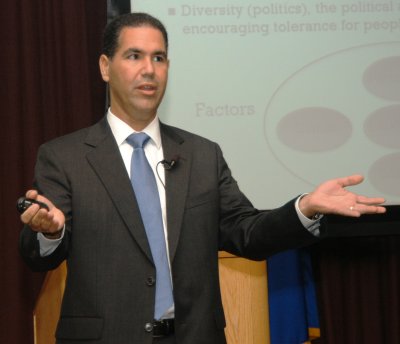 Jose Sanchez, Deputy Director of the Coastal and Hydraulics Laboratory at the U.S. Army Engineer Research and Development Center, speaks about the impact of diversity upon an organization at the Dahlgren Hispanic Heritage Month Observance held at the Aegis Training and Readiness Center auditorium Sept. 30. (Submitted photo)
DAHLGREN, Va. (October 1, 2010)—Scores of military, government civilians and contractors attended the annual Hispanic Heritage Month Observance with one purpose in mind Friday—to celebrate and reflect on Hispanics' unique experiences and contributions to the United States and the nation's armed forces.
Undaunted by the rain, they arrived at the Aegis Training and Readiness Center auditorium and learned more about the culture and traditions of Americans who trace their ancestors to Spain, Mexico, and the Spanish-speaking nations of Central America, South America, and the Caribbean.
The observers listened to Navy leaders and an Army civilian who was recently selected by 'Hispanic Business Magazine' as one of the 100 most influential Hispanics, speak volumes about the 2010 Hispanic Heritage Month theme—"Heritage, Diversity, Integrity, and Honor: The Renewed Hope of America".
"More and more leadership positions are being filled by individuals of Hispanic heritage across the Navy," said NSWC Dahlgren Division Commander Capt. Michael Smith. "Four admirals, three members of the senior executive service and 156 Master Chief Petty Officers of Hispanic heritage are leading the Navy today."
Smith also referred to Assistant Secretary of the Navy for Manpower and Reserve Affairs Juan Garcia's recent comments about Hispanics serving in the U.S. Navy.
"Today, contributions of Hispanics to the mission of the Navy are woven into every segment of naval operations," stated Garcia. "Recognizing that America's strength lies in its diversity, it is in the Department of the Navy's best interest to draw from every diverse group in our nation. We must leverage the strength of the diversity that our nation and our people have to offer."
Today, more than 63,000 Hispanic and Latino Sailors and civilians serve in the Navy total force. Currently, Hispanics in the Naval Sea Systems Command workforce total about four percent.
"That percentage is gaining," said Smith. "It is our responsibility to nurture our diverse workforce and to recruit the best and brightest from all populations in order to provide the best solutions for our warfighters. One way we do this is through our recruitment program. This fall NSWC Dahlgren Division representatives are visiting a number of Hispanic Serving Institutions, that is, institutions having a student population that is 25 percent or more Hispanic."
Jose Sanchez, Deputy Director of the Coastal and Hydraulics Laboratory at the U.S. Army Engineer Research and Development Center, commended the base Hispanic Association's volunteerism.
"Dahlgren is doing well," said Sanchez, the event's keynote speaker, in regards to voluntary services provided by members of the Hispanic Association such as support to families, transition assistance and cultural awareness.
Sanchez says that his own professional development was enhanced as he reached out and mentored young people on personal and technical levels. For this reason, he is dedicated to teaching minorities and other students so that they can excel and reach their goals.
The word "Hispanic" does not refer to a member of a race - it means that someone speaks Spanish, said Sanchez. "We have a language in common," he added, pointing out that Hispanics represent a mix of races and cultures, including Germans in Argentina.
In addition to Hispanic Heritage Month events, the Dahlgren Hispanic Association directly supports recruitment, Equal Employment Opportunity Office community outreach and Navy Chapel community charitable events. Members mentor newly hired employees; promote understanding and communication; and provide a forum to discuss Hispanic-related issues for the Navy, Naval Support Facility and its tenant commands.
The Hispanic Association also participates in the Mary Washington College and Fredericksburg City Multicultural Fair and provides support to the local community at event s such as the National Organization for the Advancement of Hispanics (NOAH)/Hispanic Association annual fund raiser; the Toys for Tots drive; and the Fredericksburg City Library Hispanic Heritage Month event that features ethnic arts, crafts, food, music and entertainment for kids such as games and storytellers.
Dahlgren's Hispanic Association was founded in 1998 to promote understanding, communication, and cultural awareness by providing a forum of discussion for Hispanics in the Navy, NAVSEA, the Naval Support Activity (NSA) South Potomac and its tenant commands, contractors and the community.
Each year, Americans observe Hispanic Heritage Month from Sept. 15 to Oct. 15. This coincides with the anniversaries of the independence of five Latin American countries, Mexico and Chile. President Lyndon Johnson established Hispanic Heritage Week in 1968; President Ronald Reagan expanded it to Hispanic Heritage Month in 1988.
Some notable Hispanics in our Navy, past and present, include:

. Naval aviator Cmdr. Everett Alvarez, who was shot down over Vietnam in 1964 and withstood more than eight years of torture and solitary confinement before being released.

. Cmdr. Yvette Davids became the first Hispanic woman to command a surface combatant when she took command of the USS Curts (FFG 38) in 2007.

. Edward Hildago became the first Hispanic to serve as Secretary of the Navy in 1979.

. Hospital Corpsman 2nd Class Phillip Azevedo was awarded a Bronze Star for his actions during a 12-month individual augmentee deployment to Afghanistan in 2009.

. Rear Adm. Samuel Perez, commander of Task Force 42, oversaw all port activities and coordination during Operation Unified Response in Haiti in January 2010.
Source: NSWC