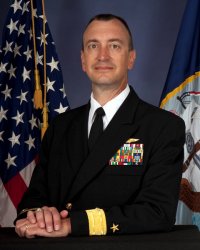 Rear Adm. Randy Mahr assumed command of the Naval Air Warfare Center Aircraft Division today. (U.S. Navy photo)
PATUXENT RIVER, Md. (Sept. 30, 2010)—Rear Adm. Randy Mahr assumed the duties and responsibilities of the commander of the Naval Air Warfare Center Aircraft Division today from Rear Adm. Donald Gaddis, who leaves NAWCAD to become the Program Executive Officer for Tactical Aircraft at NAVAIR.
NAWCAD's mission is as the Navy's principal research, development/test, evaluation, engineering, and fleet support activity for Naval aircraft, engines, avionics, aircraft support systems, and ship/shore/air operation.
Mahr comes from the the Aircraft Launch and Recovery Equipment Program Office (PMA-251) here, where he served as program manager. Born in Elizabeth, N.J., Mahr graduated from the U.S. Naval Academy in 1983, was designated a naval flight officer in October 1984 and graduated with distinction from the Naval Postgraduate School in 2001.
His operational tours include assignments as an A-6E Intruder bombardier/navigator with the Green Lizards of Attack Squadron (VA) 95 and the VA-115 Eagles, forward deployed to Atsugi, Japan. He also served as a tactics instructor at the Medium Attack Weapons School, Pacific.
As an aerospace engineering duty officer he was the test and evaluation manager and chief engineer for the Joint Standoff Weapon, and following was deputy program manager for a joint Navy–Air Force research program. He was the first naval officer to serve as vice commandant, Air Force Institute of Technology and was subsequently assigned as chief of staff for Program Executive Officer, Tactical Aircraft Programs.
He was named program manager (PMA 231) for the Navy's E-2 Hawkeye and C-2 Greyhound programs beginning May 2005 and in April 2008, was selected to serve as program manager for Aircraft Launch and Recovery Equipment programs.
Mahr's decorations include the Legion of Merit, Distinguished Flying Cross with combat distinguishing device, Defense Meritorious Service Medal, Meritorious Service Medal, Air Medal, Joint Service Commendation Medal, Navy Commendation Medal, Air Force Commendation Medal, Navy Achievement Medal and various unit and campaign awards. He was recognized with the 2008 Aviation Week magazine Laureate award in the military category for his leadership of the E-2D Advanced Hawkeye program.
Source: Naval Air Systems Command