By Alex Sosnowski, Expert Senior Meteorologist for AccuWeather.com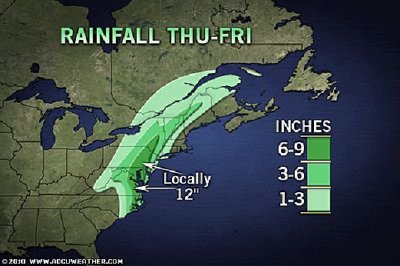 STATE COLLEGE, Pa. (September 30, 2010)—AccuWeather.com reports up to a foot of rain falling along parts of the East Coast will cause everything from flooding in urban areas to that of small streams and some rivers into Friday, placing lives and property in peril.
Tropical Rainstorm Nicole moving up from the South continues to merge with other wet weather systems in the North.
This is a very dangerous and life-threatening situation.
Some kids who went to school via bus may have to go home in a boat as water overwhelms roads in suburban and rural areas. Some schools may close early Thursday, and not open at all Friday.
Prior drought or not, a general 3 to 6 inches of rain will not all be absorbed by the ground, as it is falling at too fast of a pace. Local rainfall totals will reach or could exceed a foot.
In a corridor from around the Chesapeake Bay to the Poconos, rainfall rates of close to an inch per hour were occurring Thursday morning, and may continue into Thursday night.
Road closures and bridge washouts will occur, along with flooding of low-lying areas and small streams. In some instances, small streams will overflow their banks in a matter of minutes.
This zone includes an area from Richmond, Va. to Washington, D.C.; Baltimore, Md.; Harrisburg, Reading and Wilkes-Barre/Scranton, Pa.; and Binghamton, Syracuse, and Albany, N.Y.
Next, significant rises along rivers from eastern North Carolina to Virginia, Maryland, Pennsylvania and New York State are to be expected with potential for lowland flooding.
Do not drive through flooded roadways, as the road beneath may be washed out.
People that live along small streams prone to flooding should have a plan of action for escape or to move valuables out of harm's way.
Any urban area that gets into the shield of rain is at risk for urban flooding problems. This includes Wilmington, Del., Philadelphia, New York City, Hartford, Providence and Boston.
Fallen leaves combined with the rain will lead to blocked storm drains and flooded streets.
As if the rain Thursday was not enough, the core of Nicole's wind has yet to be dealt with along the immediate coast. When it hits tonight, numerous trees will be downed, blocking streets and roadways, and taking power lines with them.