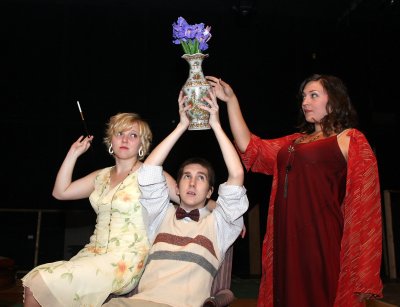 St. Mary's theater season kicks off with Noel Coward's Hay Fever. From left to right: Lisa Davidson, Maxwell Heaton, and Briana Manente. (Photo: Bill Wood)
ST. MARY'S CITY, Md. (September 29, 2010)—St. Mary's College of Maryland's theater season kicks off Oct. 14 with Noel Coward's witty comedy of manners Hay Fever. Directed by faculty member and award-winning actor Michael Ellis-Tolaydo, the play centers around a wacky weekend at the English home of the flamboyant—and blissful—Blisses.
Like many of Coward's comedies set among the English bourgeoisie, including Broadway shows Fallen Angels, Private Lives, and Design for Living, Hay Fever epitomizes the wit and sophistication of Coward's plays. "It's about a family," Ellis-Tolaydo said, "but no ordinary family, the Bliss family, whose eccentricities and theatrical excesses turn an innocent weekend get-together into laugh-out-loud comedic chaos."
Hay Fever is set in the hall of the Bliss family home, where we meet Judith (Briana Manente '12), a recently retired stage actress; David (Tobias Franzén '13), her would-be novelist husband; and the alliterative Sorel (Lisa Davidson '12) and Simon (Max Heaton '12), their two equally unconventional and self-absorbed children. The Blisses live in a world where fiction easily substitutes for reality, and where their unfortunate weekend guests - a diplomat (Jonathan Wagner '12), a flapper (Naomi Garcia '14), a boxer (Nick Huber '13), and a fashionable sophisticate (Emily Moore '13) - are repeatedly thrown into melodramatic scenes where the Blisses over-emote and, with characteristic theatrical flourish, over-react to situations that do not really exist. The resulting chaos ends only when the tortured visitors tip-toe out the door one-by-one, with our unsuspecting hosts none the wiser.
Former New York Times theater critic Frank Rich summed up Coward's mass appeal: "[While] some plays defy the laws of theatrical gravity, Coward demonstrates that pure fluff also rises."
Performances are at 8 p.m. Oct. 14-16 and Oct. 21-23, and at 2 p.m. Oct. 17 & 24, in the Bruce Davis Theater in Montgomery Hall. The audience is invited to talk with the cast and director after the Oct. 21 performance. Tickets are $6 for general admission. Call 240-895-4243 for reservations or go to
www.smcm.edu/tfms/season20102011.html
. Free parking is within walking distance of the theater.