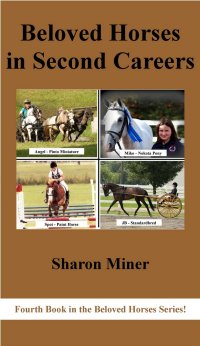 The cover of Sharon Miner's new book features one of Greenwell State Park's horses, Spot. Former owner Caitlin Keyes is seen riding Spot in the bottom left photo.
CALLAWAY, Md. (Sept. 27, 2010)—Author Sharon Miner will be at Greenwell State Park on Sunday, Oct. 3, from 1 until 3 p.m., to sell and sign copies of her new book,
Beloved Horses in Second Careers
. One of Greenwell's beloved horses, Spot, is profiled in the book and appears on the cover.
Spot is the cornerstone of Greenwell's riding lesson program, popular with riders and campers alike. He is a favorite of riders with disabilities as he is so patient. Unknown to many, Spot led quite an interesting life before he came to Greenwell. Miner's book tells the story of Spot.
Miner's appearance is sponsored by the Greenwell Foundation and is part of an East Coast tour promoting the publication of her new book.
Sharon Miner is the author of adventure stories and mystery novels for middle grade readers and young adults. Miner, a professional horsewoman, always includes horses in her books. Read more about Miner and her books at her Web site
www.sharonminer.com
.
For more information about Miner's East Coast book tour, visit her blog
authorevents.blogspot.com
.
More about Spot
Spot was born in Texas where he was used for cow cutting. He did the same later in California. He landed in Oklahoma and was sold to a man who lived in Maryland. Caitlyn Keyes was 13 years old and living in Southern Maryland when she saw an ad in a magazine for an eventing farm.
"The ad had a picture of this really cool looking registered Paint Horse named Lucky Leo. We ended up going to that farm (because my mom does saddle fittings) and she asked a girl who this horse was because I just wanted to see him. Well come to find out he just so happened to be for sale. Of course we bought him!"
"He then evented up to Training Level but could easily school Prelim, but he developed arthritis so he was retired from jumping. Then a year later he went to nationals in Pony Club in Kentucky for Dressage! Also, the whole time I owned him he fox hunted. I am so happy to hear that he is still a superstar."
—Caitlyn Keyes, Summer 2009
More about Spot's role in the Greenwell Therapeutic Riding Program
A few years ago, Gene and Colleen Lane spent time at Greenwell as park hosts. They lived in their motor home at the park and volunteered with several of Greenwell's programs including the Therapeutic Riding Program. As TRP volunteers, Gene and Colleen assisted as side-walkers, walking alongside a horse and TRP rider during lessons. Now, Gene is a TRP rider himself.
Shortly after completing their park host service, life took a drastic turn. Gene suffered a fall and a stroke. He lost the use of his legs and one side of his body.
Therapeutic riding was suggested as a way to offer Gene an opportunity to improve his physical and cognitive abilities. At first, he wasn't sure what to expect but he says because of his experience as a Greenwell TRP volunteer, "I knew I would be better." Colleen says they both knew the difference riding would make because of their experience as volunteers in the program.
Since his injury, Gene has had to rely on others for assistance with everyday tasks and he spends a lot of time in a wheelchair. But riding is the first thing he has done for himself. Therapeutic riding has also taken his recovery to a new level.
After two months of riding, his balance and posture have improved, he is able to sit upright, his legs are straighter and his overall attitude is happier. And the horse he rides, Spot, can sense that Gene is getting more comfortable as time goes on as evidenced by the change in Spot's walk and gait.
"Riding in the TRP is truly the highlight of my life," says Gene. He says riding Spot has enriched his life in so many ways, adding, "Spot is a lifesaver."
The Greenwell Foundation offers therapeutic and recreational horseback riding lessons for children (age 7 and up) and adults with developmental, physical, or emotional challenges. Lessons fees, donations, and grants combine to cover the cost lessons year-round.