PRINCE FREDERICK, Md. (Sept. 27, 2010)
Citizen Honored for Pulling Woman from Burning Vehicle
Pictured from left: Sheriff Mike Evans, Kerri Ann Stallings, and Michael Baxter.
Sheriff Mike Evans recently nominated Michael Baxter of Owings for a commendation for his heroic act on July 29 of this year. Mr. Baxter came upon a vehicle engulfed in flames on Md. Rt. 4 in Huntingtown. He immediately, at great personal risk, opened the vehicle door and pulled the driver, Kerri Ann Stallings, to safety. On August 31, the Calvert County Commissioners presented Mr. Baxter with a proclamation paying tribute to his brave and heroic actions.
Deceased Employee Honored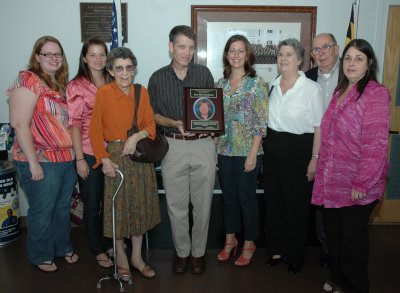 Pictured are Judy Walker, Tamara McClanahan, Hilda McClanahan, John McClanahan, Shannon Mayforth, Caroline Domingue, Jean Domingue and Ann Buccheri. John McClanahan holds a plaque honoring Suzanne McClanahan, a former employee who passed in 2009 from colon cancer.
On Friday, September 10, Sheriff Mike Evans and Lt Colonel Hejl dedicated a plaque in the memory of Suzanne "Sue" (Domingue) McClanahan, formally the civil process specialist in the Administrative and Judicial Services Bureau of the Calvert County Sheriff's Office. Sue passed away unexpectedly from colon cancer on September 10, 2009. Family, friends and co-workers flooded the lobby of the Sheriff's Office to witness the dedication.
The plaque reads:
This Wing of the Calvert House which houses the Administrative and Judicial Bureau is dedicated in the memory of:

Sue McClanahan "Civil Process Specialist"

Lost much too early; Sue was a vibrant, energetic, intelligent, fun loving, professional woman who was always willing to help, loved by her family and friends and will be dearly missed by all.
Lt. Steve Jones Graduates from FBI National Academy Program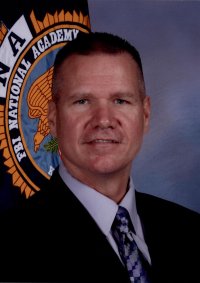 Lt. Steve Jones, Commander of the Calvert Investigative Team of the Calvert County Sheriff's Office, graduated on September 17 from the FBI National Academy Program at Quantico, along with 272 fellow law enforcement officers.
The 242nd Session of the National Academy consisted of men and women from 49 states. Included in the class are members of law enforcement agencies from the District of Columbia, 26 international countries, five military organizations, and four federal civilian organizations.
The program, internationally known for its academic excellence, offers 10 weeks of advanced investigative, management, and fitness training for selected officers having proven records as professionals within their agencies. On average, these officers have 19 years of law enforcement experience and usually return to their agencies to serve in executive-level positions.
"I am honored that a member of my command staff was selected by the FBI to attend the National Academy," said Sheriff Mike Evans. "Lt. Steve Jones made a great sacrifice by leaving his family and friends for 10 weeks to attend this training. Lt. Jones is the fourth person in the Calvert County Sheriff's Office history to attend this prestigious Academy. Lt. Dave McDowell, current commander of the Patrol Bureau, is among that list. I am grateful to the FBI for the training that Lt. Jones received, as this will benefit the Sheriff's Office and the citizens of our great county."