LEONARDTOWN, Md. (Sept. 25, 2010) - The St. Mary's County Bureau of Criminal Investigations (BCI) Narcotics Division Friday released the following incident and arrest reports. The Division is an investigative team comprised of detectives from the St. Mary's County Sheriff's Office, Maryland State Police Drug Enforcement Division and Federal Drug Agents (HIDTA Group 34). The Division was established on September 1st, 2007 and is based in St. Mary's County.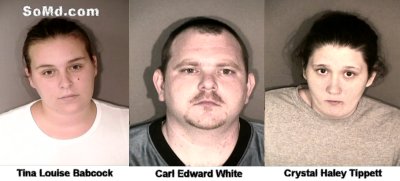 DRUG DISTRIBUTION ARREST: Detectives began an investigation into drug distribution by Suspect
Carl Edward White
, a/k/a "Nugget," age 29 of Lexington Park. Detectives continued the investigation into Suspect White's criminal activity and obtained a search and seizure warrant for his home. Prescription medication, syringes, marijuana, scales, and packaging materials were recovered. Arrested were Carl Edward White,
Tina Louise Babcock
, age 26 of Callaway, and Crystal Haley Tippett, age 23 of Lexington Park. Additional charges are pending against Suspect White. Child Protective Services were contacted and responded to the scene for several separate issues. Their investigation is continuing.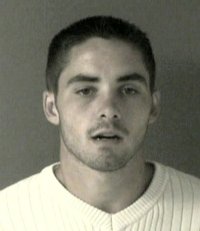 GROWING, DISTRIBUTION OF MARIJUANA: As a result of a several month long investigation, Jordan Michael Burnett, age 24 of Dameron, pictured at left, was arrested on an open Grand Jury Indictment related to distribution of marijuana. A search and seizure warrant was obtained and executed with the assistance of the St. Mary's County Emergency Services Team. More than one half of a pound of marijuana was seized—valued at more than $1,000—as well as two shotguns, a handgun, scales, prescription medication, and proceeds. The proceeds include a Ford Explorer and two televisions valued at $1,000. Nearly 40 marijuana plants were seized. The plants were in the infancy stages of growth, however there was evidence of a larger grow operation being present at sometime. Additional charges are pending against Suspect Burnett and a second unnamed suspect. A case review with State's Attorney Richard D. Fritz is pending.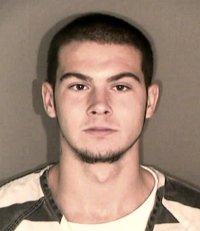 ECSTASY DISTRIBUTION:
Ryan Duke Aud
, age 23 of Leonardtown, pictured at right, was arrested on an open Grand Jury Indictment as a result of a previous search and seizure warrant that was executed on his home. The charges were for Possession of Ecstasy with the Intent to Distribute and Possession of Marijuana.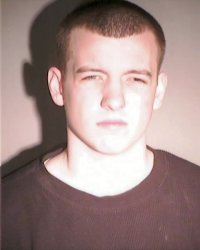 OXYCONTIN DISTRIBUTION:
Joseph Darnell "Bubbi" Ransom
, III, age 20 of Mechanicsville, pictured at left, was arrested on open Grand Jury Indictments. Detectives conducted undercover purchases of Oxycontin from the suspect on several occasions.
OXYCODONE DISTRIBUTION:
James Wesley Hughes
, age 22 of Lexington Park, pictured at right, was taken into custody in Calvert County for an open Grand Jury Indictment that was obtained at the conclusion of a Vice Narcotics investigation. Undercover purchases of Oxycodone were made from the suspect.
POSSESSION OF MARIJUANA: Detectives were conducting an investigation in the Mechanicsville area when two suspects were observed smoking marijuana.
Daniel Thomas Stephens
, age 18 of Mechanicsville, and
Jeremy Michael Carr
, age 23 of Mechanicsville, were both charged with possession of marijuana and a related smoking device.