Suspect Broke into Waldorf Homes and Stole Jewelry and Coin Jars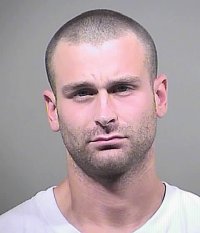 Eric Steven Fisher, 27, of Waldorf, was arrested and charged with multiple burglaries in Charles County. (Arrest photo)
LA PLATA, Md. (Sept. 15, 2010)—Charles County Sheriff Rex W. Coffey today said detectives arrested a man responsible for multiple burglaries that occurred in Waldorf since August. Eric Steven Fisher, 27, of Waldorf, was arrested September 10 and charged with two counts of burglary after detectives linked him to break-ins on Billingsley Road and Middletown Road. Fisher had already been charged on September 8 with another burglary on Kenbrook Court. Detectives say Fisher randomly chose the homes he broke into and used a ruse that drew little attention.
Police say that in most cases, Fisher drove through neighborhoods looking for homes to target. Once he picked a house, he parked his car—a red, Honda Civic—in the victim's driveway. He knocked on the front door and waited for an answer. If a homeowner was home, Fisher asked whether or not a certain person lived there. Then, he would tell the homeowner he had the wrong house and left. If no one answered the door, Fisher systematically checked the doors and windows to see if any were unlocked. In one case, he entered the house through an unlocked front door. In the other cases, he walked to the back and pried open a window or door. Once inside, Fisher stole jewelry and coin jars. Afterwards, Fisher pawned the jewelry or cashed the coin jars in for dollar bills at a local kiosk.
Patrol officers and detectives followed up on numerous leads and subsequently developed Fisher as a suspect. Throughout the course of their investigation, officers recovered various stolen property including a stolen wedding band and iPods linking him to the break-ins.
To date, Fisher has been charged with three burglaries in Charles County. He is also a suspect in a burglary in another county.
Officers D. Major, C. Barrows and Detective Hemsley investigated.