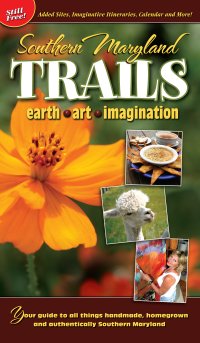 HUGHESVILLE, Md. (Sept. 13, 2010)—Close your eyes and imagine stepping away, just for a weekend, from the swirling pace of a hectic lifestyle, from stamped-out fast food, crowded stores and another afternoon staring at an electronic screen.
Imagine slipping into an excursion focused on simplicity and authenticity. Perhaps you take the kids to a farm where they can dash through a sorghum maze or gaze at animals that aren't animated. Or maybe you'll browse a potter's private studio looking for a handmade treasure. You could savor good food grown just down the road, chat with the vintner as you experience a new wine and wind down your evening in a cozy B&B.
Well, the newest
Southern Maryland Trails: Earth, Art, Imagination
is your guidebook for just such an adventure. The fourth edition of this 128-page publication, released Sept. 7, is available free from partner sites, designated pickup sites, and visitor centers in Maryland. Touted as "your guide to all things handmade, homegrown, locally harvested and authentically Southern Maryland," the book details the region's best art, food, wine, lodgings and farms in Anne Arundel, Calvert, Charles, Prince George's and St. Mary's counties.
Created by the Southern Maryland Agricultural Development Commission (SMADC), the Trails program highlights the area's natural beauty, culture and agricultural heritage. The intent is to showcase the area's destination farms, including corn mazes and cut-your-own Christmas tree farms, alongside similar locally owned businesses, parks and cultural destinations in a travel package that's convenient and attractive to tourists and locals alike. Site descriptions in the book are augmented with contact info, site hours and driving directions and are arranged geographically so users can easily plan a day or weekend "Trails Trip." Detailed maps, abundant photos and lively sidebar stories give the reader colorful insights into the spirit of the area.
"I'm very excited about being included in the Southern Maryland Trails Guidebook this year," said Misti Dayton of Treadles Studio in Leonardtown, one of the new sites in this edition. Her studio offers classes in spinning and weaving, and her own fiber art pieces are available in the adjacent gallery, the Craft Guild Shop, also a new addition to the Trails. "It's a wonderful feeling to be included with so many talented artists, great galleries and terrific farms."
"The Trails program has become a very strong presence in the region," said Dr. Christine Bergmark, executive director of SMADC. "I think it owes some of its success to the fact that visitors feel really good about shopping and dining at these places owned by local farmers and artists.
"They feel like they are supporting their community," Bergmark said. "Plus, I think they generally have a really good time and get to enjoy quality food and custom made art. That's a win-win scenario all around."
What's New on the Trails?
The new book features 30 new sites including four farms, four artist studios, eight eateries and a new winery. The Park at Williford Farms, a new site along the Heron's Flight (the trail centered mainly in Charles County), offers pony rides, a party barn, a woodland trail and an animal park with pot-bellied pigs, alpacas and a miniature donkey.
Hess House, a bed and breakfast just added on the Barnwood and Beach Glass Loop (primarily in St. Mary's County) is a restored 1915 Piney Point beach house filled with fascinating local memorabilia gathered through the years by owner J. Whitson Rogers. And also new to this Trail is the recently launched Port of Leonardtown Winery run by a cooperative of Southern Maryland wine growers.
The Turnbuckle Hop (the Trail centered mainly in Prince George's/Anne Arundel counties) features several new eateries, from the casual and quirky bb Bistro ("make love, not processed food!") to the upscale and elegant Sam's on the Waterfront.
And new to the Calvert County Trail, called the Fossils and Farmscapes Ramble, is Water's Edge Studio, run by painter and jewelry artist Joan Humphreys, whose custom jewelry creations often feature recycled materials and intricate beadwork.
In this edition, the Trails began incorporating lively arts venues into the mix of Trails sites, including a summer concert series paired with a weekly farmers' market at O'Donnell Lake in Waldorf and The Colonial Players, a local theater troupe in Annapolis.
The book also includes a detailed calendar listing of the area's most popular annual events and festivals and an Imaginative Itineraries chapter with themed Trails trips. These center around specific interests, for example The Great Girlfriend Gallery Hop Getaway features a cluster of local galleries and elegant eateries arranged as an easy, daylong outing and the Golden Gourmet and Gardens Tour highlights a series of sites suitable for senior citizens or those whose mobility is impaired.
October is Trails Month
The new edition of the guidebook will be released just in time for the annual October is Trails Month promotion. October was designated Trails Month because there is already an abundance of festivals, events and activities (many hosted by partner sites) set against the region's lovely foliage and comfortable weather. Agritourism farms are in full swing also, offering mazes, hayrides, crafts and other family fun. Many partner sites offer incentives throughout the month, including discounts and free gifts, to those that mention the Trails.
To get a free copy of the new Southern Maryland Trails guidebook, visit a participating partner site or pickup site. See a listing of all sites at
www.somdtrails.com
.