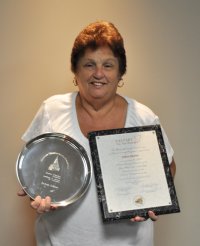 JoAnn Adams displays her 2010 Governor's Volunteer Service Award. (Submitted photo)
CALLAWAY, Md. (Sept. 13, 2010)—JoAnn Adams, A life-long resident of Calvert County, recently won a 2010 Governor's Volunteer Service Award. Adams was one of five winners in the adult category for her years of volunteer service in Calvert County.
The Governor's award is an annual recognition for extraordinary volunteers across Maryland and accepts nominations for youth, youth group, individual, group, business, non-profit, faith-based group, national service, senior, senior group, lifetime achievement and special recognition.
Adams was recognized for more than 25 years of service to the community, especially her work as an employee with The Arc of Southern Maryland where she helps people with developmental and intellectual disabilities.
Adams was nominated for the award by the Calvert County Board of Commissioners after she won the 2009 "Calvert You Are Beautiful" Volunteer of the Year award.
Adams began working with The Arc in 1997 as a service assistant. She helps Arc clients with personal support, such as escorting them to medical appointments, grocery shopping, and social and recreational activities.
In addition to working with The Arc, Adams and her husband started the Twin Beach Youth Group in 1967 and through a sponsorship with the Stallings-Williams Post 206 American Legion, she established the Legionettes Majorettes and Drum providing opportunities for Calvert youth for more than 25 years. She also volunteers with the "On Our Own" Drop-In Center and for five years volunteered as an advocate for the Abused Person Program accompanying clients to court including responding to calls for an advocate in the middle of the night.