By JUSTIN KARP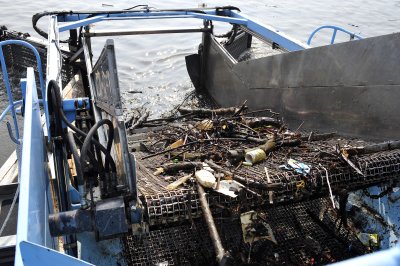 D.C. Water, the District of Columbia's water and sewer utility, operates two trash skimming boats that collect surface waste from the Anacostia on a daily basis, moving it to conveyor belts on the shore and into dumpsters. (News21 Photo by Jason Lenhart)
WASHINGTON - Masada Maeda looks out over the Anacostia River from the back of his 15-foot-long skiff. Along the banks and floating through the water are plastic cups, beer cans, Styrofoam and dozens of other types of trash.
"It's not as bad as it used to be," said Maeda, who in his work for the nonprofit Anacostia Watershed Society has been sampling the river water since 2002.
The 8.6-mile river—one of the most polluted tributaries of the Chesapeake Bay—is undergoing a gradual transformation, aided by a major trash-removal program ramping up this year. District officials on Jan. 1 placed a 5-cent fee on plastic bags given out at stores selling groceries and alcohol to discourage their use. And jurisdictions surrounding the Anacostia drafted a plan calling for removal of more than a thousand pounds of trash from the river and its tributaries every day.
Though the goal is to eventually make the river fishable and swimmable, the efforts are also helping to lure development to the waterfront—including Nationals Park, which opened in 2008—and The Yards, a 42-acre mixed-use development that will bring shopping, homes and offices to the riverfront. The Yards' 5.5-acre park opened this week.
"People choose this area because they know the river is going to be cleaned up and see it as a tremendous asset," said Michael Stevens, executive director of the Capitol Riverfront Business Improvement District, created by city government to oversee development and marketing for more than 60 projects within the Near Southeast neighborhood along the river.
A Decade of Change in Near Southeast.
View in a larger map
.
The improvements come after decades of degradation of the Anacostia by development in its watershed—the 176-square-mile area of land and tributaries that extend into Montgomery and Prince George's counties. The river has been plagued by raw sewage overflows during heavy rains, and oil and grease and other toxic runoff from city streets and parking lots.
"Most of the areas were developed without management, and now we have to go back and retrofit to bring it up to codes," says Ken Yetman, the stream corridor assessor for the Maryland Department of Natural Resources.
The region's two major sewer utilities, D.C. Water and the Washington Suburban Sanitary Commission, are pumping almost $3 billion into projects mandated by the District to curtail sewage overflows, including an eight-mile-long tunnel under the Anacostia to capture runoff that would normally go straight into the river. Renovations to the Blue Plains Wastewater Treatment Plant are expected to be completed by 2014, but raw sewage overflows into the river during heavy rains could continue for a few years after that, officials say.
Federal and local governments are contributing to the river's cleanup, with grants, taxes and fees going directly to the decades-long restoration effort. Environmental groups have long been active here, successfully suing city agencies to improve the water quality.
"Aesthetically ... this river is clearly getting better," Maeda said.
In a conference room on the 11th floor of a New Jersey Avenue high-rise two blocks north of the Anacostia, sitting near a large-scale model of Near Southeast, Stevens exudes optimism.
"We think this is a once-in-a-generation opportunity to build a brand new city on the river," he said, of the Near Southeast community roughly bounded by South Capitol Street, Interstate-395 and I Street.
Much of the redevelopment of Near Southeast centers around the area's primary tenant—the Washington Nationals—which moved into its new home across the street from the Anacostia in 2008.
The population of the area—which dropped by nearly 5,000 residents between 1950 and 2008, to 1,830 people, according to Census data—has suddenly begun to climb. It jumped nearly 73 percent, to 3,164, between 2008 and the second quarter of 2010, according to the D.C. Office of Planning.
In that short time, new grocery and drug stores, restaurants, condominium and apartment buildings and millions of feet of office space have all opened in the neighborhood. About 35,000 people now work there, Stevens said.
Claire Schaefer, deputy executive director of Capitol Riverfront, said the ballpark brings 2 million people a year to a neighborhood they may never otherwise have visited.
"Part of wanting to bring people down here is to reintroduce them to the river," Schaefer said. "D.C. has a lot of river frontage but, for so long, you weren't able to access it.
"What the ballpark did was allow people to come down and see the Anacostia; maybe dip their toe in it. Once they start to care more, then you have a larger base of people that want to clean up the river."
According to the Capitol Riverfront's second-quarter projections released in July, the neighborhood has already seen $2.3 billion worth of development since 2000, with another $6 billion either under construction or planned for the future.
Akridge, a Washington-based real estate firm, has heavily invested in the area, specifically along the Half Street corridor that leads from the Navy Yard Metro station to Nationals Park. A new 196-room hotel, 50,000 square feet of retail space, 340 residential units, restaurants and bars are all part of the firm's plan for Half Street.
"I think what you're seeing is a belief that the river is and will become more and more of an asset to the neighborhood," said David Tuchmann, a development manager for Akridge.
Having the river become an asset—but not necessarily a developed one—is something environmentalists have long fought for. Jim Dougherty, conservation chairman for the D.C. chapter of the Sierra Club, has been active in other efforts to prevent construction projects along the river, including a proposed theme park on Kingman Island and a proposed extension of I-395 over the river.
"The Anacostia is a poster child for environmental injustice," Dougherty said. "Whenever the District wants to build a project, they put it there.
"You look at the Potomac and what do you see: the Lincoln Memorial, the Jefferson Memorial and wild, green open space. But on the Anacostia, you have an eyesore like the Benning Road power plant."
Anacostia Watershed Society leaders say new, planned development is better than what came before.
"The fact is this is an urban river, and much of the area is already developed," said Brent Bolin, director of advocacy for the Anacostia Watershed Society. "Unless we are talking about tearing up Southeast and Southwest D.C. and reestablishing hundreds of acres of wetlands, we're not going back to the original ecosystem."
The Maryland Department of the Environment and the D.C. Department of the Environment, with help from the Environmental Protection Agency, took a major step this April to ignite the trash cleanup effort by proposing a plan that would require the removal of solid waste from the river.
Called a total maximum daily load of trash, it is just the second of its kind to be proposed for a river. In 2007, California's Water Quality Control Board cooperated on a similar mandate from the EPA for the Los Angeles River.
Total maximum daily loads for other types of pollutants, such as bacteria, heavy metals and oil and grease, have been created for waterways throughout the United States. Those mandates establish how much of a pollutant can exist in a body of water, putting it into compliance with Clean Water Act water quality standards.
Maximum daily loads for sediment, fecal coliform, oil and grease and heavy metals have all been set for the Anacostia in the past decade. The Anacostia's daily trash load is different, though. Instead of declaring how much trash can safely enter the river, this one gives the District and Maryland an amount of trash that must be removed from the Anacostia each day.
The proposed language says the District and Montgomery and Prince George's counties must collectively remove 1,189 pounds of trash a day from the Anacostia and its tributaries. That adds up to more than 1.2 million pounds of garbage a year.
The District and Maryland submitted a draft of their plan to the EPA in April. A final report was submitted Sept. 7, said Gregory Voigt, an EPA coordinator who oversaw the day-to-day development of the Anacostia's trash limit. The EPA should sign off on it in late September, he said.
Also working toward the cleanup goal is the Anacostia Watershed Restoration Partnership, a coalition of government officials, advocacy groups, environmental agencies and business leaders, which announced a $1.7 billion plan in April that includes more than 3,000 proposed projects dealing with storm water management, stream restoration and trash cleanup.
All three municipalities within the Anacostia watershed have either passed, drafted or are working on stringent, new storm water permits that will curtail the amount of solid and bacterial pollution from entering the watershed.
In addition, to help meet trash-reduction goals, city officials on Jan. 1 enacted the 5-cent fee on plastic bags distributed at stores within the District of Columbia—an attempt to push shoppers to use reusable bags.
According to the Office of Tax and Revenue, stores in the District distributed 3 million plastic bags in the first quarter of 2010, down from an expectation of 22 million bags that would have been distributed without the fee.
D.C. Council member Tommy Wells, the Ward 6 representative who sponsored the Anacostia initiative, estimates the fee will raise upward of $3 million in 2010, which will be directed toward cleanup efforts.
Before the bag fee was implemented, plastic bags made up nearly 21 percent of the trash in the main stem of the Anacostia, Wells says.
"The bags were something that were free; they had no value, so people felt free to toss them on the ground," Bolin said. "Now, people can realize that maybe they don't need these things."
Stevens' main selling point to developers who want to build in Near Southeast is the chance to be part of not only a new neighborhood, but one where residents don't need to own a car and where they can contribute to the Anacostia's restoration effort.
"We tout that environmental sustainability is part of our community DNA," Stevens said. "All of our stakeholders are building LEED certified buildings." LEED, which stands for Leadership in Energy and Environmental Design, is a certification system developed by the U.S. Green Building Council to recognize development and construction done in the most environmentally sound ways possible.
Capitol Riverfront officials say more than 30 of the existing or planned buildings in the neighborhood are LEED certified.
Examples of environmentally sound and low-impact development exist throughout the riverfront area. Nationals Park was the first professional sports venue in North America to be designated as LEED Silver, making it the greenest ballpark in America.
The stadium boasts such features as a green roof, which can capture storm water before it reaches the Anacostia, and onsite storm water filters. Recycled construction material made up 20 percent of the total structure.
The Yards, which will front directly onto the Anacostia, will upon completion boast a riverfront park, 2,800 residential units, nearly 1.8 million square feet of office space and 400,000 square feet of shopping and dining, said Gary McManus, the marketing director for Forest City Washington, The Yards' developer.
The first stage of the 42-acre mixed-use development—the waterfront park—opened Sept. 7. "This is going to be one of Washington's avant garde neighborhoods," said D.C. Delegate Eleanor Holmes Norton, at the opening ceremony for the 5.5-acre park.
With all of new development, though, comes the danger of setting back the restoration efforts of the nearby river.
"This is a massive test," said Dana Minerva, executive director of the Anacostia Watershed Restoration Partnership. "There are some developers who would say that if it costs a dime more, we're going to oppose it.
"And there are some developers saying, as some recently have, 'Show us that it's practicable and we can do it, because we like our rivers to be clean just as everyone else does.'"
This story was produced by the News21 team at the University of Maryland's Philip Merrill College of Journalism and distributed by Capital News Service.