By ALEXANDER PYLES
This is one in a series of eight articles about the Baltimore Orioles and Camden Yards.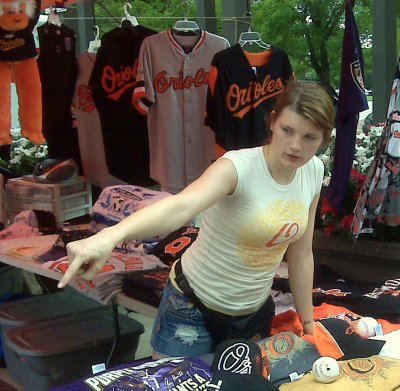 Sara Walters sells Orioles items before a game at Oriole Park at Camden Yards. (Photo: Alexander Pyles)
BALTIMORE (Sept. 7, 2010)—A few fans stop at the tables filled with hats, shirts and small wooden bats. But most don't break stride, moving past the Baltimore Orioles merchandise stand Sara Walters keeps across the street from Oriole Park at Camden Yards.
Walters, 20, surrounded by hundreds of dollars' worth of Orioles gear, takes cover under a faded orange canopy 81 days a year. At every home game, she stands on a concrete island between the Baltimore-Washington Parkway and Washington Boulevard—no matter the weather, the standings, or the fan turnout. She's the third generation to work in the family business that began some 40 years ago at old Memorial Stadium on 33rd Street.
But business isn't what it used to be for discouraged vendors outside Oriole Park. Many of them depend on this income, but they have watched their profits shrink in concert with the number of games the Orioles lose each year.
With attendance at Oriole Park at an all-time low and the team close to completing its 13th-straight losing campaign, even legendary super fan "Wild Bill" Hagy of Memorial Stadium lore would have trouble convincing the people of Baltimore to buy hot dogs, merchandise, or even game tickets.
The once-proud Orioles franchise has fallen on tough times. But even Walters, young as she is, can remember happier seasons and larger crowds.
"I remember this one particular time, it was during Cal Ripken's 2,131 (consecutive games streak)," said Walters, eyes hidden by reflective aviator sunglasses. "I remember walking up and my dad just had this swarm of 150 people around him, and he's standing on top of the car and he's throwing T-shirts" into the crowd.
"It's just a drastic difference from in those days, in the height of Cal Ripken."
Hall of Famer Cal Ripken Jr. retired in 2001 at the end of four straight losing seasons, though the O's were not too far removed from winning the American League East in 1997. Ripken T-shirts are still a top seller, Walters said.
In 2010, the Orioles are waging an epic battle with the equally woeful Pittsburgh Pirates for 29th place in the 30-team league. Outside Camden Yards, fans pick up some Nick Markakis and Brian Roberts T-shirts, but Washington Nationals' phenom Stephen Strasburg's T-shirt is selling nearly as well.
In a ballpark that can hold more than 49,000, an average of just over 22,000 fans scatter throughout the stands on game days. An early-August Baltimore Ravens preseason football practice at M&T Bank Stadium, just south of Oriole Park, drew 17,851. That same day, the Orioles filled only 51 percent of their ballpark with 24,929 fans. The next day, the O's drew only 18,283.
The Walters family has three merchandise stands surrounding Oriole Park --including one on Lee Street and one at the corner of Conway and Howard—and sells football swag at Ravens games, too. The family also has a store in Baltimore County that does most of its business during football season.
Walters' father—who earned the nickname Wild Bill not for leading Orioles cheers as Hagy did but for chasing down would-be thieves—sold merchandise outside Memorial Stadium, on the NASCAR Circuit and at road games for both the Orioles and the old Baltimore Colts with his father.
But Sara Walters isn't accustomed to the same excitement her father saw when the Orioles were consistently competing for championships. The energy around the stadium now is hardly electric, and the sidewalks are not often crowded.
"I mean, I can't complain. You sit outside and get to talk to people all day. I'm a college student so it kind of works for my schedule," said Walters, who is transferring from Essex Community College to the University of Maryland, Baltimore County in the fall. A new mother who just moved in with her boyfriend, Walters depends on the job for income.
Ravens games bring a livelier group. Walters said there is no comparison between the seasons. And Ravens fans buy merchandise throughout the year because the team is so competitive.
She's hesitant to express disappointment in the Orioles' performance and the small crowds. But she acknowledges she'd like to see a wave of orange-clad fans cascading down Baltimore sidewalks, ticket lines wrapping around the ballpark and a winning baseball team on the diamond. It would certainly help out her pocketbook.
"If the Orioles can just go to one World Series we can all retire for the rest of our lives," Walters said with a laugh.
If selling at sports events is the Walters' family business, having a positive attitude about the Orioles and the job is the family creed. Walters' mother, Lisa, who has been working outside the ballpark since 1992, won't complain about dwindling crowds or enthusiasm.
"It's a little slow," she said reluctantly while counting a few wrinkly dollar bills as small groups of fans walked past her T-shirt and hat displays toward the turnstiles at Oriole Park. "I don't like to say nothin' bad, and I won't even if it's my worst year ever."
Lisa Walters has taken over day-to-day operations from her husband, who has been forced from the street by health problems. But she repeats the Walters family motto that Oriole Park is still a beautiful place to come and watch baseball and that any business is better than no business.
"Camden Yards is a great place to come with your family. Don't expect a good team because it's going to be a long time before we ever get one," Walters said. "I think people should just come out here and support our team and support our ballpark and support the people that work out here."
Other street vendors, like Terry Gordon, are less tolerant of the team's struggles and low attendance.
Gordon's mother has owned a hot dog and burger stand across from Pickles Pub for five years, where he works on occasion. He rolls his eyes and nods his head as he says business is "terrible," though it picks up when fans of the Boston Red Sox and New York Yankees come to town.
"In the years past I used to make, like, $1,000 a game, that's when the Yankees are in town," he said. Now when those teams come to town, Gordon says the stand makes half that amount. On most days, he says the stand only makes between $50 and $100.
Gordon said this has been the worst year for business, but was emphatic in saying "$100 or $50 is better than nothing."
William Kohlhepp, who also calls himself Wild Bill, says business gets worse every year. Kohlhepp, 37, and his wife Stephanie, have been selling food outside Oriole Park since it opened in 1992.
"Every year we think we're going to bottom out," Kohlhepp said. "And every year, we're wrong."
As William Kohlhepp continues to tend the grill and his wife takes orders, sweat rolls down his closely-shaven head and collects around his scraggly goatee. It's hard work, but Kohlhepp calls what he does a civic service.
He used to set up his stand directly across from Oriole Park's main gate on Camden Street, but the addition of a Hilton Hotel connected to the Convention Center moved him a couple of blocks west. Now, he worries that street construction for next summer's Baltimore Grand Prix might force him to relocate again.
The potential construction combined with smaller crowds each year has Kohlhepp, who is a driver for Mr. Tire by day, worried.
"I definitely depend on this," he said. "I'll have to try to find something else to do. You've got to roll with the punches. It is what it is.
"But I wouldn't trade this for the world. You know, the very thought of not being able to be down here almost brings me to tears."
This story was produced by the Baltimore Urban Affairs Reporting class of the Philip Merrill College of Journalism, the University of Maryland, College Park. The class is supported by the Abell Foundation, with other resources provided by The Baltimore Sun. It is distributed by the University of Maryland's Capital News Service.