By LAURA E. LEE
This is one in a series of eight articles about the Baltimore Orioles and Camden Yards.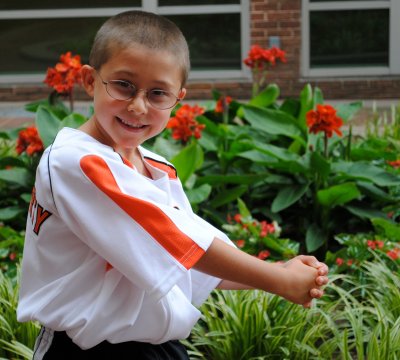 Ray Daugherty, 7, of Sykesville has attended more than 400 Orioles games. (Photo: Laura E. Lee)
BALTIMORE (Sept. 7, 2010)—Ray Daugherty moves through the turnstiles at Camden Yards with high-fives for the ticket takers Mr. Al and Mr. Stu. He shakes hands and offers hugs to almost every usher on his way to his front-row seats in section 20. Ray embraces "Grandpa Berry," an usher and Orioles dugout guard, perched behind the media photographers.
A middle-aged man spots Ray and teases: "If you got lost, what address would you tell them?" Would it be his home in Sykesville or 333 West Camden Street?
The grown-ups laugh, but Ray seems puzzled.
Ray Daugherty, 7, is at home at Camden Yards.
During the baseball season, he is here all the time. "Four-eighty-nine," he says. "Four hundred eighty-nine games that I've been to, right here."
His parents took him to his first game when he was 5 weeks old. At 4, he made his television debut on an ESPN-produced segment on "This Week in Baseball." The piece focused on Ray's devotion to the O's and was later nominated for a sports Emmy.
"I was born to play baseball and cheer for the Orioles," he says.
The O's have lost every season of Ray Daugherty's life. He has cheered on one of the worst teams in baseball since 2003.
It used to be that Camden Yards was filled, night after night, with thousands of fans as devoted as Ray. There are fewer of them now, after so many years without much to cheer about.
But Raymond Michael Daugherty carries on. The Orioles are his team.
"No matter if they win or lose, I'm still going because they're my favorite team and they like me rooting for them," Ray says.
His parents, Deanna Monda and Marie Daugherty, drive to about 75 home games each season from Sykesville, where they are building a new home. Ray's room will be a shrine to the team, complete with a bathroom modeled after the Orioles locker room.
Ray was born virtually blind in one eye. Doctors discovered his 20/200 vision in his left eye when he was 4 years old. His optician lobbied the eyeglasses company that makes sports goggles to create orange-and-black glasses for Ray.
He wears the prototype to games, peering out from behind the round spectacles.
If he's not at school—Freedom Elementary in Eldersburg, where he excels in advanced math and is beginning second grade—or at Camden Yards, he is working on his own baseball skills. He'll tell you that he is the only person on his youth team to hit for the cycle this year and he credits his accomplishment to watching the Orioles.
"The best part is actually watching them play because it gives me some advice for me because I play too," he says. "I sometimes do stuff like in the big leagues like get some triple plays, triples, cycles."
At Camden Yards, Ray warns that he sits "in the front row which is very dangerous." There, he eats chicken fingers and drinks Sprite, and chats with the people around him. He has to be reminded to turn around and pay attention.
Between innings, he jumps from his seat to the railing to shout greetings to the players. He calls out to Nick Markakis and his favorite, second baseman Brian Roberts. When Ray talks about the players, he says, "He's my buddy," or "He taught me how to hit."
In the front row, Ray chats about the O's with fellow fan Mitch Anest, a burly, middle-aged man, about the latest trades and how they will influence the team and future games.
Ray knows exactly who moved to the minors and he recites the disabled list with ease. "I haven't really seen him in action but he is pretty good for the time that they picked him," he says of a new player, Manny Machado.
And the statistics aren't limited to recent seasons. Ray tells stories from the Orioles heydays as if they just happened and as if he was there.
"A lot of people loved Memorial Stadium, even my parents," he says of the Orioles former home. "When I came along and I saw Camden Yards for the first time, it was really fun for me. You get so close and it's a bigger ballpark and I just love watching them."
He begins sentences with phrases more typically used by old men, phrases like, "Back in the days when I was little..." and "Back in those days, before I was even born...."
His goal is to be the O's second baseman, like Roberts, by 2022. What if another team offered him a contract? Ray says he'd go back to the minors and wait for the Orioles to call him up.
He has a favorite game, his 400th. It was a Friday night and Felix Pie hit the cycle to propel the O's to victory. Ray remembers every detail, including the order of Pie's hits: a double in the first at bat, a home run in the second, a single in the third and then, a triple to right center where the ball becomes lodged under the wall.
When his parents miscalculate the number of remaining games in the season and tell him it will be 2011 before he attends his 500th game, he pauses, runs the numbers and corrects them. "I'm actually going to be at 500 this year."
As another long losing season draws to a close, Ray remains loyal and optimistic.
"When they don't win, it's kind of frustrating but they try and I'm very proud of them (for) the trying their best out there to do what they can do." He speaks often of "trying their best."
And, like all true believers, he remains optimistic, even about a team at the very bottom of the standings. "They've won more games than I expected," he said.
"Next year we could make it to .500 and then really start to win more...maybe go to the World Series next year which I've always hoped," he says. "I've never seen any World Series in my life except the movies."
This story was produced by the Baltimore Urban Affairs Reporting class of the Philip Merrill College of Journalism, the University of Maryland, College Park. The class is supported by the Abell Foundation, with other resources provided by The Baltimore Sun. It is distributed by the University of Maryland's Capital News Service.