LEONARDTOWN, Md. (Sept. 7, 2010)—The St. Mary's County Bureau of Criminal Investigations (BCI) Narcotics Division released the following incident and arrest reports. The Division is an investigative team comprised of detectives from the St. Mary's County Sheriff's Office, Maryland State Police Drug Enforcement Division and Federal Drug Agents (HIDTA Group 34). The Division was established on September 1st, 2007 and is based in St. Mary's County.
METHAMPHETAMINE TRAINING: In June, Sheriff Bill Bivens of Monroe County Tennessee hosted training on methamphetamine investigations for St. Mary's Vice Narcotics detectives. Detectives worked side by side with detectives from the Monroe County Narcotics Unit and the Tennessee Methamphetamine Task Force detecting, identifying and conducting clean ups. Vice Narcotics detectives conducted undercover operations and executed search and seizure warrants over the course of five days. This training was offered at no cost to St. Mary's County. The process for "cooking" methamphetamine has evolved over time and now is conducted in what is called a "one pot" or "shake and bake" process. This means an entire lab is contained within a plastic bottle and makes the process even more dangerous as it is easily transported and carelessly discarded. The information learned was shared with the State's Attorney's Office.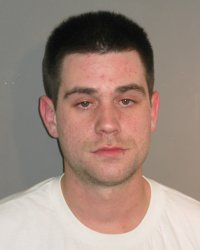 METHAMPHETAMINE INVESTIGATION: During the month of July, detectives received information that Suspect Robert Oscar Newland, 24 of California, pictured, was manufacturing methamphetamine. Undercover purchases of methamphetamine were made from Suspect Newland. The cases were reviewed with State's Attorney Richard D. Fritz and presented to the Grand Jury. Three arrest warrants were issued and a Search warrant was obtained. On September 2, the Emergency Services Team assisted Vice Narcotics detectives in executing the search warrant on the California home. Numerous items of evidence were seized from inside the home and discarded in the rear yard and wooded area behind the home. Marijuana and cocaine was recovered as well and charges are pending against a second suspect. The Drug Enforcement Agency was contacted and provided a federally certified clean up crew to respond from the State of Pennsylvania to handle the hazardous material clean up. The DEA funded the clean up as well as the collection gear needed. Suspect Newland was charged with three counts of Distribution of Methamphetamine and numerous additional charges are pending a review with State's Attorney Richard D. Fritz. The successful investigation, identification, and arrests in this case were made possible by the training and field experience provided by Sheriff Bivens, the Monroe County Narcotics Unit and the Tennessee Methamphetamine Task Force.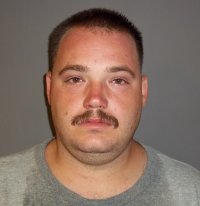 DISTRIBUTION OF MARIJUANA AND PERCOCET: Charles Vaselee Freeman, Jr., 26 of Lexington Park, pictured, was identified as a distributor of marijuana and prescription medication. Undercover purchases of marijuana and Percocet were conducted. A Grand Jury for St. Mary's County handed down two arrests warrants charging Suspect Freeman Jr. with felony distribution of both controlled substances. He was arrested and originally held without bond.