By Nicole Dao, Lindsay Powers, Jon Aerts, Karen Carmichael and Justin Karp. Capital News Service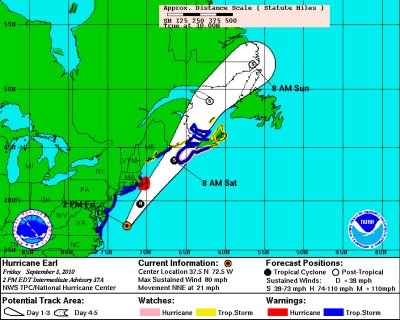 Hurricane Earl projections from NOAA's National Hurricane Center. The storm should miss So. Md. by a large margin if the storm continues on the projected path. The latest NOAA Earl data is
here
.
ANNAPOLIS (Sept. 3, 2010)—Even though Hurricane Earl is projected to stay east of the Maryland coast, state and local officials are preparing for possible extreme weather conditions, just in case.
Gov. Martin O'Malley signed an emergency declaration Wednesday that granted power to state authorities, including the Maryland Emergency Management Agency, to organize preparations in light of the uncertain path of the storm. Throughout Maryland, officials responded by moving equipment and supplies into place and activating emergency plans.
Bill Read, director of the National Hurricane Center in Miami, said in a telephone news conference that tropical storm conditions will likely cause damage to trees, power outages and some coastal flooding as the category 3 storm pummels the outer banks of North Carolina and makes its way up the Eastern Seaboard by Friday morning.
But the storm is not expected to head inland in Maryland.
"A cold front is the key element turning (Earl) in a more north-northeasterly direction," Read said.
As of Thursday afternoon, a tropical storm warning and hurricane watch was in effect for Inland Worcester County and the Maryland beaches. Coastal flood watches and advisories were also in effect for St. Mary's, Charles, Calvert, Hartford, Prince George's and Anne Arundel counties, as well as for southern Baltimore.
Although meteorologists said the eye of the hurricane is expected about 100 miles off the Maryland coast, coastal residents could see heavy showers and winds gusting between 39 and 74 miles per hour, said Meteorologist Harvey Thurm of the National Weather Service.
Higher tides are expected to cause minor coastal flooding along lower-lying areas of the Potomac River and Chesapeake Bay.
Downtown Annapolis, an area likely to feel the storm's effects, faces potential flooding. Local officials are combating the threat with 1,400 sandbags, some of which have already been distributed by the Department of Public Works.
The U.S. Naval Academy is also armed with sandbags and barriers and is keeping an eye on both the storm and specific areas especially prone to flooding, said Deborah Goode, an academy spokeswoman.
However, local business owners, who are no strangers to flooding, aren't panicking.
"Whatever happens, happens," said Michael O'Brien, owner of Pip's Dock Street Dogs, which specializes in all things hot dog. "But it won't be as bad as (Hurricane) Isabel."
In 2003, Hurricane Isabel caused severe flooding in Annapolis and other areas along the Chesapeake Bay.
Battalion Chief Steve Thompson of the Anne Arundel County Fire Department said a generator and an animal sheltering trailer have been sent to Annapolis High School. Annapolis' Emergency Operations Center has also been activated.
"We want to make sure that in the worst case scenario that there are no hiccups on our end and that we deploy our resources efficiently and effectively," said Phil McGowan, a city spokesman.
Annapolis Mayor Joshua J. Cohen attended a meeting Thursday to discuss plans with local department heads.
"The mayor expressed confidence that the city is ready to go in case things take a turn for the worse," McGowan said.
Ocean City Mayor Rick Meehan said the storm is not likely to pose a threat to Labor Day vacationers, even though some may have doubts about their plans for the weekend.
"They're going to wake up Saturday morning and say 'we should have gone,'" Meehan said.