Thirty-Degree Temperature Dip Aims for Northeast
By Alex Sosnowski, Senior Expert Meteorologist for AccuWeather.com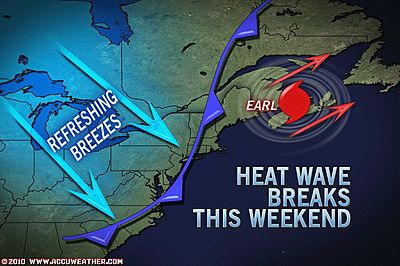 STATE COLLEGE, Pa. (September 1, 2010)—AccuWeather.com reports temperatures will soon take as much as a 30-degree hit in the Northeast as the heat takes a vacation.
A strong cold front is forecast by AccuWeather.com meteorologists to plow through the region in the wake of Hurricane Earl's East Coast adventures. The front will set the stage for an autumn-like weekend.
The ridge of high pressure steering Earl up the Atlantic Seaboard late this week will rapidly break down allowing a big push of cooler air to invade from the northwest overtaking the Great Lakes, Ohio Valley, mid-Atlantic and New England.
After temperatures peaking near 90 in the northern Appalachians and upper 90s in some of the Interstate 95 cities, the weekend will be refreshing to many, if not chilly to some folks.
It will feel like football weather throughout the region. Highs will be in the upper 50s to mid-60s in the mountains and in the 70s along much of the I-95 corridor.
Combine this with low humidity and winds averaging 15 to 25 mph Saturday and on Sunday it will suddenly feel like fall.
AccuWeather.com RealFeel® temperatures will be 10 to 15 degrees lower than the actual high.
The air mass change will also shave a few degrees off temperatures and take the edge off the humidity in parts of the South.
For some folks, the cooler weather can't come soon enough. Many areas experienced one of their hottest summers on record.
Philadelphia and New York City both experienced their hottest summer (June, July and August) since records began well over 100 years ago.
Don't Pack Up the Shorts Just Yet
While the coming cool blast will hold through the long holiday weekend, temperatures will build over the region during the middle and latter part of next week.
Temperatures in many areas may again climb to July levels as a ridge if high pressure builds in most levels of the atmosphere in the East.