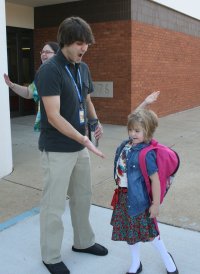 Indian Head Elementary School science teacher Timothy Emhoff, left, welcomes Indian Head first grader Lila Rahm, right, to the first day of school Aug. 30 with a high five.
LA PLATA, Md. (Sept. 1, 2010)—Charles County Public Schools (CCPS) kicked off the 2010-11 school year Monday with expectations of enrollment increases of more than 100 students and the groundbreaking for its next new high school.
Kindergarten students at Mt. Hope/Nanjemoy Elementary School started classes in newly renovated and additional classrooms. The renovation and addition are part of a state project to add space at elementary schools to accommodate full-day kindergarten, and Mt. Hope/Nanjemoy is the fourth school completed. This year, construction has started for kindergarten expansions and renovations at Eva Turner and Indian Head elementary schools.
A groundbreaking for St. Charles High School, which will be located off Piney Church Road in Waldorf, is scheduled for Sept. 8, 10 a.m., at the school site. The groundbreaking is open to the public. Charles County Public Schools seventh high school is set to open in August 2013. Site preparation is underway and the school system plans to solicit construction bids in the fall. Building construction is expected to start in early 2011.
"We had a tremendous opening of the new school year and I am looking forward to the continued progress and growth of Charles County Public Schools," said Superintendent James E. Richmond.
Instruction remains at the center of new programs this year, which advance early childhood and Science, Technology, Mathematics and Engineering (STEM) offerings. A three's class is opening at Dr. Samuel A. Mudd Elementary School in Waldorf in September, bringing the total of schools with three-year-old programs to five. "Early childhood education plays an important role and helps with the proper development and education of a child. It is crucial and some children need these programs in order to be prepared for kindergarten. Any early childhood programs we can offer are good investments for the future," Richmond said.
CCPS continues to strengthen its STEM offerings. SpringBoard, STEM e-Portfolio and SeaPerch are new programs this school year. SpringBoard is a College Board pre-advanced placement program. CCPS has added SpringBoard at the middle school level in math. SpringBoard will increase the level of rigor in the curriculum as well as accelerate learning and help close the achievement gap, said Assistant Superintendent of Instruction Judy Estep.
The STEM e-Portfolio, or Maryland STEM Portfolio Project, is funded by a grant and gives teachers model lessons in problem-based learning using electronic portfolios. Charles County is one of five in the state to receive the grant, and teacher participants receive classroom Smart Boards, mounted projectors, GPS units for classroom use, a personal laptop, flip cameras and thumb drives for 30 students. The teachers learn to incorporate multiple types of software and technology and then develop model STEM problem-based learning lessons to be shared statewide.
CCPS is also participating in SeaPerch, a federally funded pilot program designed to expose middle school students to exploration of naval architecture, marine and ocean engineering concepts. Selected students at Theodore G. Davis and Piccowaxen middle schools will participate in the after-school program that focuses on the development of robots that perform underwater maneuvers.
Communication between the school and home is about to get easier. Starting Sept. 20, the school system is launching software that allows parents to check online for information about their child, including middle and high school grades. Parents must sign up in person at their child's school and present a photo identification to receive an access code and password.
Source: Charles County Public Schools (CCPS)