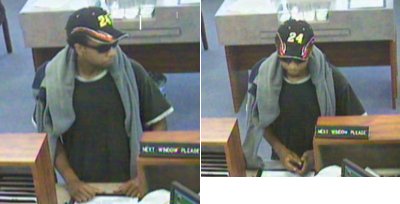 Bank camera captures of the robbery in progress. Call police at 410-535-2800 if you can identify this man.
PRINCE FREDERICK, Md. (August 30, 2010)—Police in Calvert County reported at 12:48 p.m. today that a robbery had just occurred at the Maryland Bank & Trust in Prince Frederick.
Police updated at 2:20 p.m. saying that despite having surrounded the area, the suspect was not apprehended.
The initial description of the suspect is a black male possibly in his 30's, tall thin build, wearing black pants, dark shirt, with a gray sweatshirt tied around his waist. Police say he possibly fled the scene on foot.
No weapon was displayed and no injuries were reported, according to police.
The Calvert County Public School System advised they were notified of the robbery by police and executed a lockdown of schools in the Prince Frederick corridor.
Police are asking anyone with information about the robbery to call them at 410-535-2800.