By John J. Joyce, NSWC Dahlgren Division Corporate Communications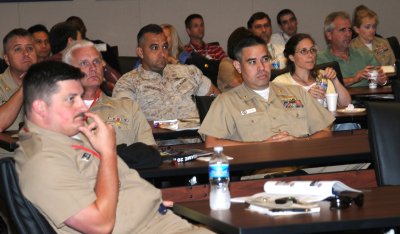 Military and industry partners listen to various scenarios presented during Navy Chemical, Biological and Radiological (CBR) Defense War Game Tabletop Exercise 2010 held at Naval Surface Warfare Center Dahlgren Laboratory Aug 9-13. More than 45 warfighters and civilians responding to simulated emerging threats throughout the event, assessed the capabilities necessary to sustain operational tempo in a CBR environment. (MC1 Scott Vanderwyst/USN)
DAHLGREN, Va. (August 26, 2010)—The Navy addressed potential deficiencies in chemical, biological and radiological defense (CBR) capabilities at its first CBR Defense Tabletop Exercise (TTX) held at Naval Surface Warfare Center Dahlgren Division (NSWCDD) from Aug. 9-13.
More than 45 warfighters and civilians - responding to simulated emerging threats throughout Navy CBR Defense War Game TTX 2010 - assessed the capabilities necessary to sustain operational tempo throughout a CBR environment.
"The War Game's overall end state will strengthen DoD and the nation, by improving on the ability to protect and defend its warfighters and first responders who risk their lives each day to fight irregular enemy tactics and win today's irregular wars," explained John Lysher, NSWCDD Asymmetric Defense Systems Department. "The threat of CBR attack grows more real by the minute, and it is vital that DoD examine its vulnerabilities and arm itself with an understanding of its technical limitations so we, as a nation, can solder our defense armor and guard against our evolving adversaries."
Thirty CBR Defense subject matter experts from military and government agencies - including U.S. Coast Guard, U.S. Strategic Command, Defense Threat Reduction Agency, U.S. Joint Forces Command and NSWCDD - supported a unique series of vignettes based upon a major combat operation. The vignettes enabled War Game TTX participants to identify gaps in the Navy's ability to project military power ashore from the sea base in a CBR environment.
"The danger that CBR weapons pose to Navy warfighters are best addressed through the simulation of probable missions and environs," explained Michael Purello, NSWCDD CBR Defense Division Head. "The projection of future operational needs is congruent with the directive to provide a roadmap through capabilities based analysis."
A critical component of capabilities based analysis is the identification of a genuine military threat. The simulated threats focused on challenges associated with amphibious task force operations and the diverse set of asymmetric weaponry used against U.S. and coalition forces.
The result of the Navy CBR Defense War Game TTX 2010 will be an initial capabilities document that will guide acquisition personnel in designing future Navy defense acquisition programs.
Moreover, Navy CBR Defense officials anticipate that the science and technology community will address gaps identified by War Game participants to ensure the Navy can project power ashore in a CBR environment.