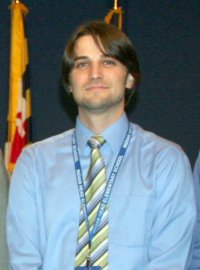 Indian Head Elementary School science teacher Timothy Emhoff was named one of three Maryland finalists for the Presidential Award for Excellence in Mathematics and Science Teaching. (Submitted photo)
LA PLATA, Md. (August 26, 2010)—Timothy Emhoff, a science teacher at Indian Head Elementary School, was recently named one of three 2010 Maryland Science Finalists for the Presidential Award for Excellence in Mathematics and Science Teaching (PAEMST) by the Maryland State Department of Education (MSDE). The award is the highest recognition that a kindergarten through grade 12 mathematics or science teacher can receive in the United States.
As a finalist, Emhoff is eligible for consideration as the state winner for elementary science, an award administered by the National Science Foundation on behalf of the White House Office of Science and Technology Policy. Each year, more than 100 awards are bestowed to recipients across the United States.
Emhoff was nominated for the award by Sue Gray, former content specialist for science for Charles County Public Schools, and said the application process was rigorous. "I had to fill out eligibility forms to ensure that I met the requirements. I had no idea I was a finalist. It was a shock and surprise," he said.
Indian Head Principal Toni Melton-Trainor said Emhoff's nomination is well deserved. "He is definitely an example of an excellent science teacher. His instruction is engaging and students succeed in the classroom. Tim has made a tremendous impact on our school's success through supporting our students in robotics, Mathematics, Engineering and Science Achievement (MESA), and the Eggbert challenge. It is quite exciting!," Melton-Trainor said.
Emhoff began his career with Charles County Public Schools in 2000 at Indian Head, where he has also served as the environmental science, robotics and MESA sponsor. He received a master's degree in education in 2009 from Walden University, and holds a bachelor's degree from Evangel University in elementary education.
Science and mathematics teachers can either apply for the award or be nominated. Applicant information is initially screened by the state Office of Mathematics and a state committee, comprised of educators from kindergarten through grade 12 and higher education. Each state committee selects up to three finalists for the national level. National award winners will be announced in June 2011.
Visit
http://www.paemst.org/
for more information.