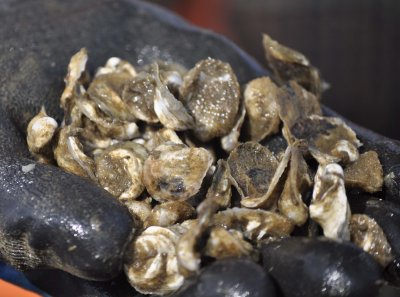 Maryland Gov. Martin O'Malley says he is optimistic Maryland can harness a share of the oyster farming industry that has already exploded in Asia, California and the Chesapeake waters of Virginia. These baby oysters were raised at Chesapeake Bay Oyster Co.'s farm in Virginia. (News21 photo by Zettler Clay)
By BRIAN HOOKS, News21
CAMBRIDGE, Md. (August 17, 2010)—On the banks of the Choptank River sits a concrete pier with what looks like 52 above-ground swimming pools. Officials say the tanks, part of an $11 million state oyster hatchery expansion, will be pivotal in restoring oysters to the Chesapeake Bay.
Up to 2 billion baby oysters, or spat, will be produced annually on the new pier when the facility is in full swing, said Donald "Mutt" Meritt, manager of Horn Point Laboratory at the University of Maryland Center for Environmental Science. That's as much spat as the center and the nonprofit Oyster Recovery Partnership jointly produced over the past 10 years.
The baby oysters are essential to the state's plan for saving the Chesapeake Bay oyster. The plan, expected to go into effect Sept. 6, substantially increases the percentage of protected oyster habitat, or sanctuaries, and allows for leasing of the bay's bottom for private oyster farming.
"What we're striving to do is jump-start Mother Nature in targeted areas that have the greatest likelihood of success," said Stephan Abel, executive director of the Oyster Recovery Partnership.
With the oysters in the bay decimated in recent decades by disease and pollution, state officials said the sanctuaries are needed to stabilize a reproductive oyster population. The total bay oyster harvest saw a record low in 2004, producing less than 27,000 bushels—less than 2 percent of the 1986 harvest of 1.5 million bushels, according to the Maryland Department of Natural Resources.
Maryland Gov. Martin O'Malley said he is optimistic Maryland can harness a share of the oyster farming industry that has already exploded in Asia, California and the Chesapeake waters of Virginia.
"Scientists and even watermen—some watermen—have been saying for 100 years that we need to move from the hunter-gatherer approach, which might have worked with this resource 100 or 200 years ago, and instead into one that strikes a better balance with stewardship," O'Malley told News21 in an interview earlier this summer. "If people don't have a sense of ownership, they will utterly decimate and deplete a resource."
O'Malley joined state and regional leaders at a dedication of the hatchery expansion on Sunday.
Resource economists say the bay could support a private aquaculture industry of up to $40 million. Although Maryland has yet to take advantage of this, DNR expects to change this by opening more than 600,000 acres of bay-bottom for private aquaculture leasing.
But many watermen say they aren't sold on the state's overall plan. At public hearings this summer, many expressed fears that the sanctuaries would kill oysters rather than protect them.
"Sanctuaries don't have a very good track record," said Tommy Zinn, president of the Calvert County Watermen"s Association, at a July 13 hearing in Leonardtown, Md. "Oyster bars are very much like your garden or flower bed; if you plant it and walk away from it, at the end of the summer you're not going to have anything left."
But officials from Maryland's DNR say sanctuaries have not been attempted on such a large scale in state waters. Mike Naylor, head of the DNR shellfish division, said the "failed" sanctuaries to which critics refer were poor habitats for reproduction—or victimized by illegal activities.
"The sanctuaries that have been in place tended to be in unproductive areas," Naylor said. "The few exceptions to that have documented and widespread poaching that caused significant problems."
The oyster sanctuaries in the bay—where harvesting is illegal—currently occupy 3,000 acres, or about 9 percent of viable habitat. Every year, the Oyster Recovery Partnership plants spat from Horn Point onto the sanctuaries, which are expected to expand to about 9,000 acres in September, or about 25 percent of viable habitat. They would be created along half of what DNR has deemed the best oyster bars for reproduction and survival rates.
Since the partnership began planting spat in 2000, a percentage has always been dedicated to eventual harvest. Last year, 40 percent of the 647 million spat were planted either in harvest areas or managed reserves, which watermen can harvest when the oysters grow to maturity in four or five years.
"Once the production levels (at Horn Point) increase, I think there's going to be plenty for everybody," Abel said.
Doug Lipton, a resource economist and associate professor at the University of Maryland, said the shift from wild oyster harvesting to private aquaculture might not be as radical as some watermen think. Lipton said the ORP restoration efforts are already an example of "public" aquaculture; spat are planted in the summer, and when oyster season returns in the fall and winter, the watermen are free to collect their daily limit of adult oysters.
"It really doesn't resemble anything like a true wild fishery," said Lipton. "When you add in what the state and the federal government (are) paying to get those oysters for (watermen) to harvest, it's a losing proposition."
According to the DNR, the state spent $40 million on such oyster restoration efforts from 1994 through 2008—an average of $2.7 million a year. The effort has been considered a failure by many, since yearly harvests have yet to top 500,000 bushels.
Lipton authored a study in 2007 in which he estimated the Virginia and Maryland waters of the bay could support a private aquaculture industry of about 250 businesses and produce 3.2 million bushels of oysters a year, with an annual value between $30 million and $40 million. The last time 3.2 million bushels were harvested by Chesapeake watermen was in 1980, according to fishery data from the National Oceanic and Atmospheric Administration.
Virginia already has a huge head start. Its private oyster farms grew in production between 2005 and 2009, from roughly 4,000 bushels to about 50,000 bushels, according to a report published in June by the Virginia Institute of Marine Science. Mike Oesterling, co-author of the report, estimated Virginia oyster farms contributed $7 million to the state's economy in 2009.
Up until now, Maryland has done little to encourage private oyster farms, and so only a few exist.
Kevin McClarren, manager of Choptank Oyster Co. in Cambridge, operates one of the few oyster farms in Maryland waters. The company lays down 1.75 million oyster seed and sells about 1 million oysters annually, he said. At any given time of the year, the company has 5 million to 8 million oysters growing in a mosaic of nets and floating frames on the Choptank River.
Normally, the winter holiday season and the week leading up to Valentine's Day are the peak sales season for Choptank Oyster Co., but McClarren said the company's biggest week on record was this year, in the days leading up to the fourth of July.
Unlike the watermen, McClarren deals with oyster work year-round, extracting larvae from adult oysters and feeding the larvae algae until they stick to shell as spat, introducing spat to the Choptank waters, then giving them space as they grow for the next three years or so.
McClarren also has oysters to sell at all times of the year, as opposed to the nine-week season in fall and winter when most watermen catch and sell oysters.
"Business is booming right now," McClarren said.
He said he considers the most difficult part of the business selling the oysters for the right price to market-savvy buyers, not growing them.
"Everybody thinks you just buy some seed oysters, throw them overboard, and come back next year to count your money. But that's just not the way it happens," McClarren said.