Device not a hazard as long as radioactive material remains locked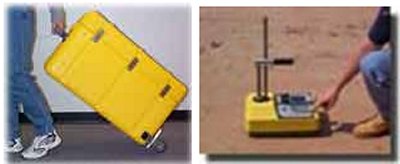 Troxler Model 3440 surface moisture density gauge, in and out of its case.
BALTIMORE (August 5, 2010) – The Maryland Department of the Environment today issued a public alert that a gauge containing a small amount of radioactive material has been reported to have been stolen from a vehicle parked outside of a private residence in the Laurel area of Howard County.
A Troxler Model 3440 surface moisture density gauge, serial number 21688, was reported stolen to MDE Wednesday. The device was last seen in a vehicle outside of a private residence in the 9000 block of N. Laurel Road. A theft from the vehicle was reported to Howard County police. The theft is reported to have occurred sometime Tuesday evening.
The missing device is used at construction sites to measure moisture and compaction in soils, concrete, and other aggregates. The device is not a hazard to the public as long as the radioactive material remains locked in the device. An extendable rod that contains radioactive material was locked in the shielded position and the device was locked in its case when last seen, according to the device's user.
The gauge is yellow in color, and its case is approximately 30 inches by 14 inches by 17 inches in size. (See pictures below.) The radioactive material it contains is Cesium-137 on its extendable rod and Americium-241 encased inside the device. A padlock is normally used to secure the Cesium-137 source in its shielded position when not in use.
Anyone finding the device should report it immediately to MDE's Radiological Health Program at 866-MDE-GOTO (866-633-4686), Howard County Police at 911, or the licensee and owner, Penniman & Browne, at 410-825-4131.