LA PLATA, Md. (Aug. 5, 2010) - The Charles County Sheriff's Office released the following incident and arrest reports.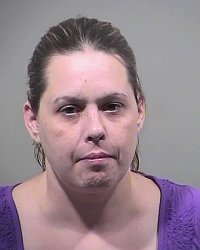 ROBBERY ARREST: Charles County Sheriff's Office detectives have arrested Amanda Lynn Taylor, 22, of Nanjemoy, pictured, for the armed robbery of a CVS Pharmacy on July 26.
Officers responded to the CVS located at 3855 Leonardtown Road in Waldorf at 2:20 a.m. for the reported robbery. Their investigation revealed a female suspect entered the store, concealed her face with a mask, displayed a handgun and ordered employees to the pharmacy area. She robbed the pharmacy of Oxycontin pills and fled from the store on foot toward Northgate Place. No one was injured.
Before concealing her identity, surveillance video captured the unmasked suspect as she entered the store. Officers who had previous contact with Taylor recognized her as the suspect. Detectives investigated and discovered additional information connecting Taylor to the robbery. On July 29, officers located Taylor at her residence and arrested her. She was charged with armed robbery, first- and second-degree assault, possessing a handgun, using a handgun in the commission of a felony/violent crime and felony theft and is being held at the Charles County Detention Center on a?$100,000 bond. Det. Higgs investigated.
STOLEN VEHICLE: On August 4 at 8 a.m., Charles County Sheriff's officers responded to Sheehy Nissan at 2950 Crain Highway in Waldorf for the report of a stolen car (pictured). A preliminary investigation revealed unknown suspects broke into a service garage and stole the car—a 2010, black/cherry colored Nissan 370 Z Touring which was brought to the dealership on August 3. Anyone with information about the whereabouts of the vehicle is asked to call Detective D. Gross at 240-299-9763. Charles County Crime Solvers is offering a cash reward for the arrest and indictment of the suspects.