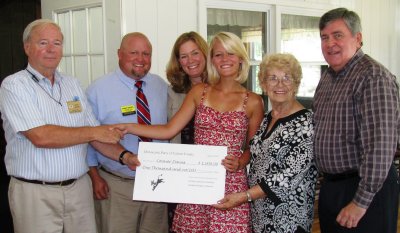 Connor Davies, fourth from left, receives her $1,000 Democratic scholarship check at a meeting of the Calvert County Democratic Women's Club on Wednesday, July 21. Left to right: Stovy Brown, Secretary, Calvert County Democratic Central Committee, Chris Davies, Connor's father and candidate for Maryland House of Delegates for District 29C, Colleen Davies, Connor's mother, Connor Davies, scholarship winner, Commissioner Barbara Stinnett, Calvert County Board of County Commissioners and President, Calvert County Women's Democratic Club, Senator Roy Dyson, Maryland State Senator for District 29. (Submitted photo)
PRINCE FREDERICK, Md. (Aug. 4, 2010)—Miss Connor Davies of Lusby, a 2010 graduate of Patuxent High School, was awarded this year's Calvert County Democratic Scholarship of $1,000 at the July 21 meeting of the Calvert County Democratic Women's Club. Miss Davies was recently a finalist in the National History Fair competition. She plans to attend Mary Washington University this fall. She was accompanied by her parents, Collen and Chris Davies. Mr. Davies is a candidate for the District 29C seat in the Maryland House of Delegates this fall.
Miss Davies was selected from a number of candidates, all seniors who graduated from county high schools this past May. Her answer to the question about the importance of the principles of the Democratic Party resulted in her receiving the award, according to the selection committee.
The Democratic scholarship is awarded annually to a high school senior from Calvert County going on to a four-year academic institution. Various organizations in the Democratic Party in the County contribute to this annual award, including the Calvert County Democratic Central Committee, the Calvert County Democratic Club, the Calvert County Democratic Women's Club, and the Riverside Democratic Club.
The selection committee consisted of Stovy Brown of St. Leonard, Chair; Ann Brown of Port Republic; Karen Zuza of Lusby; and Larry Titus of Prince Frederick.