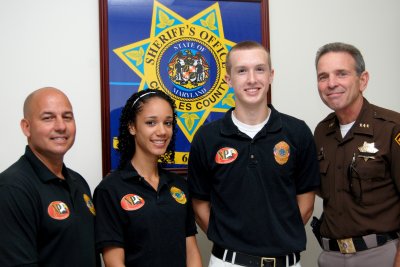 Pictured from left to right are Cpl. Rhett Calloway, who instructs the Criminal Justice class at North Point; Sierra Saunders, Chris Chamblee, and Sheriff Rex Coffey. (Submitted photo)
LA PLATA, Md. (Aug. 4, 2010)—When North Point High School graduates Chris Chamblee and Sierra Saunders enter college this fall, they'll have a little help from the Maryland Sheriff's Institute and the Charles County Sheriff's Office, which awarded them each a $1,000 scholarship this summer. Sheriff Rex W. Coffey presented the scholarships to the students in June.
This fall, Chamblee will study criminal justice at the College of Southern Maryland and Saunders will study criminology at Florida Southern College. Both students are 2010 graduates of the North Point and participated in the schools Criminal Justice Program, which is offered as part of an alliance between the Sheriff's Office and Charles County Public Schools. The program offers instruction about all aspects of the criminal justice system as part of each student's daily curriculum and helps prepare students for college and future careers.