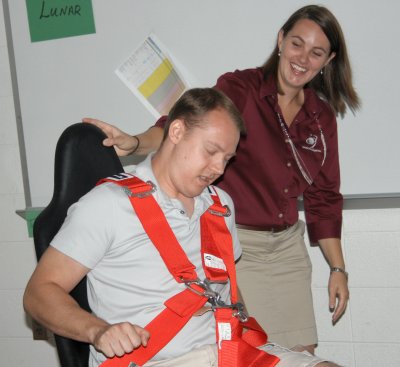 Justin Meeder, an Earth and space science teacher at Westlake High School, pictured left, demonstrates an orbital spin in a Barany chair with the assistance of Melissa Peterson, an aerospace education specialist with the Space Foundation, pictured right, during the Space Discovery Institute's Biological and Physical Research session held July 26-30 at Theodore G. Davis Middle School. Participants volunteered to take a turn spinning blindfolded in the chair, which simulates spatial disorientation effects. (Submitted photo)
LA PLATA, Md. (July 28, 2010)—In a classroom at Theodore G. Davis Middle School, a group of Charles County Public Schools teachers are constructing rockets, building space stations and planetary bases on Mars, and experiencing zero gravity. These teachers are not switching career fields or preparing for space travel; they are participating in the school system's Space Discovery Institute to learn about stimulating scientific concepts that they can incorporate into classroom lessons.
The Institute, held July 19 through Aug. 6, features six, week-long sessions and offers teachers cost-free opportunities to learn about rocketry, the biology of living in space, astronomy principles, space technologies and robots, the history and geology of Earth, and long term space travel. The sessions are designed to give teachers across all content areas new tools to keep science, technology, engineering and mathematics (STEM) education interesting for students. Each project also models how teachers can incorporate different learning aspects such as kinesthetic, audio, and visual, into lessons.
Bradley Grey, a biology teacher at Westlake High School, participated in one of the courses offered this week – Earth Systems Science – and said he gained new ideas for the upcoming school year. "I also enjoyed working with other teachers from different subject backgrounds and seeing how they can bring space concepts into their curriculum," he said.
Science teachers, such as Grey, are not the only teachers in the county interested in participating in the Space Discovery Institute. Each year, the sessions are offered to teachers across all content areas and more than 145 participants signed up this year, up from about 80 participants in 2009.
Participants in the Lunar/Mars Exploration and Base Construction course learned how to construct a crew exploration vehicle out of household items, such as plastic water bottles and drinking straws, and how to build a sustainable base on Mars. Molly Simpson, a kindergarten teacher at Dr. Samuel A. Mudd Elementary School kindergarten and first-year participant, said she learned a lot of concepts to bring back to her students.
"A lot of activities we did are able to be altered to fit the needs of your students. For example, we made germinators in the course. I can easily use this in my classroom to talk about the life cycle of plants and how plants can grow in space with certain soils," Simpson said.
Participants in the Biological and Physical Research, and Earth Systems Science sessions learned about the history of space and how to integrate STEM into all content areas and lesson plans.
John Kraft, a physical education teacher at Gale-Bailey Elementary School, signed up for the Biological and Physical Research course offered this week. He said he plans to use aspects from the course to explain to his students that muscles act the same way in space as they do on Earth. Other participants, such as Ronald Banks, Malcolm Elementary School's library media specialist, have taken courses in previous years. Banks signed up this year to participate in his fourth session. "Through the courses, I plan to provide these materials to other staff members and teachers, and am considering starting up a rocketry club for students who are interested," Banks said.
Superintendent of Schools James E. Richmond joined the teachers in the Rocketry course last week to take a firsthand look at how the sessions can engage students in STEM education. "Our children have to be prepared to solve problems of the future. These courses and the school system's partnership with the Space Foundation are beneficial to our students and staff. The concepts taught as part of the Space Discovery Institute are essential to provide students with educational opportunities rich in fields such as science and mathematics," Richmond said.
This year's Institute also drew the attention of school system administrators, including Kristin Shields, J.C. Parks Elementary School principal, and Tynika Lytle, Parks vice principal. Both Shields and Lytle signed up for the Rocketry session to explore additional professional development opportunities. "I will definitely be sharing with teachers and staff about space tourism. It has become my new favorite subject. I would encourage educators to participate in this opportunity because we are always looking to grow professionally, and this course provided so many practical ideas that can easily be incorporated into various content areas," Lytle said.
Two additional courses are being held next week: Astronomy Principles for the Classroom and Space Technologies in the Classroom. The astronomy course focuses on principles such as orbital movements in space, similarities between Earth and Mars, constellations and the structure of the solar system. Participants in the space technologies course will examine space structures, robotics and communications, and will also visit Goddard Space Flight Center.
This is the fourth consecutive year that CCPS has offered the Space Discovery Institute, in conjunction with the Space Foundation, to teachers. Each year, the sessions are offered free of charge to all subject and grade-level teachers. CCPS developed the partnership with the Space Foundation to further develop STEM programs in the school system with the goal of enhancing student interest in science, technology, engineering and mathematics.
The Space Foundation is a Colorado Springs based nonprofit organization that supports space activities, space professionals and education. It conducts research and analysis and government affairs activities from its Washington, D.C., office, and has field representatives in Houston, Texas, and Cape Canaveral, Florida. For more information about Space Foundation education programs, visit www.SpaceFoundation.org.
Source: Charles County Public Schools