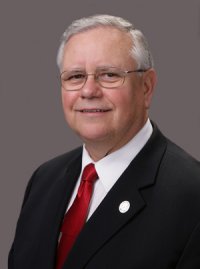 Wayne Cooper, Charles County Commissioner President, announced his resignation from the board today. (Photo: Charles County government website)
LA PLATA, Md. (July 16, 2010)—Charles County Commissioner President Wayne Cooper announced today, during a live broadcast airing on Charles County Government's cable station, he is resigning from his position as Commissioner President, effective today at 4:30 p.m. In April, Commissioner Cooper declared that he would not be seeking re-election.
Commissioner Vice President Edith J. Patterson said she will conduct a press conference at 2:30 p.m. in the Commissioners' Meeting Room in the Charles County Government Building located at 200 Baltimore Street in La Plata to discuss the resignation and its impact on the county government.
Commissioner Cooper issued the following statement regarding his decision:
"Since my announcement in April that I would not seek another term as your Commissioner President, I have been working to bring to a close several priorities before the end of my term that will continue to strengthen Charles County's competitive position. They've included the adoption of the FY 2011 County Budget financial plan, which resulted in no increase in property taxes; provides stable funding; and maintained government services, along with funding to support a continued quality educational system, which has been one of my priorities since my days as a member of the Board of Education.
"Additionally, the Board of Commissioners completed its work and commitment to build the new digital classroom high school in Waldorf. And, we have set in motion a plan to continue our aggressive effort at providing economic development to bring jobs to our citizens.
"Therefore, I have come to the conclusion, with the support of my family, and prayers, that I will step down as your Commissioner President, effective 4:30 p.m. July 16, 2010.
"I want to thank my fellow Commissioners for their support and friendship during a very challenging period in the economic history of our country and State. I commend them all for their hard work and commitment to doing the people's business, and protecting the future of this great County. I am confident the County government will continue to be well served when I'm gone.
"I want to take a moment and extend a special thanks to the Board's Vice President Edith Patterson, for her strong leadership. As vice president, Dr. Patterson brought a unique point of view and strength to the Board. Thank you, Edith, for your service.
"In closing, I want to again thank the people of Charles County for their trust in me over the past 14 years and 8 elections. The best part of public service is working together, and I truly believe we have made a difference for our children and friends. I could not have done this job without all of you.
"As I exit the public stage, I do so with the knowledge and satisfaction that I gave it all I had. God bless you all and God bless Charles County. Thank you."