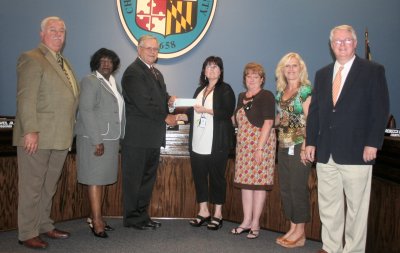 Stacy Crowe (center holding check), past president of the Waldorf Jaycees, presents a $10,000 to the Commissioners of Charles County to benefit Aging and Senior Programs. (Submitted photo)
LA PLATA, Md. (July 13, 2010)—The Charles County Commissioners' meeting session on Tuesday began with a $10,000 check presentation from Ms. Stacy Crowe, past president of the Waldorf Jaycees, to Charles County's Aging and Senior Programs. The funds will be used to help seniors with basic needs such as paying for heating, air conditioning, and groceries.
"We are honored and pleased that you have made the decision to donate $10,000 to the aging and seniors group, as well as the children. The Jaycees do so much for our community," said Commissioner President Wayne Cooper.
Commissioner Vice President Edith J. Patterson commented, "I know that what [the Jaycees] do with the aging population for the County's citizens is outstanding. … You are a wonderful resource for Charles County citizens and we'd like to commend you for your dedication and donation today."
"I know that our staff at Community Services will use [the donation] wisely," said Commissioner Samuel N. Graves, Jr. "As always, you're pumping money right back into our community."
"I'm proud to join the chorus of praise for the Jaycees! On behalf of the citizens, we really appreciate it," said Commissioner Gary V. Hodge.
Source: Charles County Commissioners