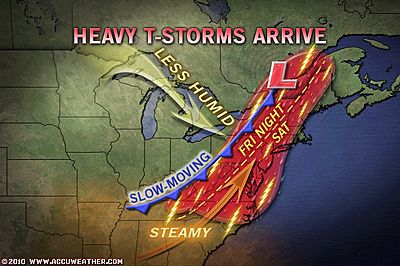 By Alex Sosnowski, Expert Senior Meteorologist for AccuWeather.com
STATE COLLEGE, Pa. (9 July 2010)—AccuWeather.com reports moist Atlantic Ocean air brought spotty thundershowers to the Northeast Thursday. A front from the west will break the back of the heat wave Friday into the weekend with drenching downpours, followed by cooler, less humid air.
Ocean air trimmed away 100-degree temperatures for coastal areas of New England and the mid-Atlantic Thursday. Spotty downpours also dropped temperatures a few more degrees into Friday.
The 100-degree heat has been shoved to the Deep South, but high humidity remained over much of the Northeast Friday. That will soon change as well.
High temperatures will be trimmed to the upper 70s and lower 80s in the Appalachians this weekend, while highs will generally be in the 80s in the major I-95 cities. Nighttime lows will flirt with the upper 50s in the mountains, the 70s in the major East Coast cities and the 60s in their suburbs.
As people quickly realized in Midtown Manhattan Friday morning, the air is laden with moisture. Any shower that gets going into the first part of the weekend can be nothing short of thoroughly drenching.
In a few cases, a strong thunderstorm can produce flash flooding, completely shutting down driving through a town or city.
In a handful of locales, gusty winds and lightning strikes can down trees or knock out power.
Most of the storms will push into the central and northern Appalachians Friday evening, then to the Interstate 95 corridor early Friday night into Saturday evening. However, there will be spotty downpours popping up well in advance of the front throughout Friday.
The corridor of showers and thunderstorms is forecast to clear the mid-Atlantic by Sunday. Portions of New England and the Carolinas may be dealing with additional downpours through the weekend until the front and an offshore storm get together and move away.
As we stated earlier this week, while the downpours coming into the weekend should bring many areas a thorough soaking, there will be a few places that miss out on significant rain.
Another opportunity for showers and thunderstorms will come during the middle of next week.