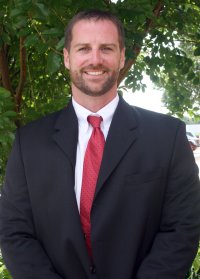 Bradley Snow, the 2010 Outstanding Vice Principal of the Year for Charles County Public Schools. Snow is a vice principal at Maurice J. McDonough High School. (Submitted photo)
LA PLATA, Md. (June 29, 2010)—Bradley Snow, a vice principal at Maurice J. McDonough High School, was selected as the 2010 Charles County Public Schools Vice Principal of the Year.
"When I was told that I had been selected as the Outstanding Vice Principal of the Year, I felt elated that I was part of a great high school team and a fantastic school system. I was most honored by the number of supporting letters I received from members of the McDonough community. The students at McDonough are not only our greatest workers, they are our final product. It is our duty to provide them with educational opportunities to express and develop their finest qualities," Snow said.
He was nominated for the award by McDonough's principal, Jervie Petty, for his professionalism and leadership, and his commitment to academic excellence, maintaining a safe and orderly school environment, and improving parent and student communication.
"I have had the pleasure of working with Mr. Snow for the past four years. During those years, I have watched him mature into an extraordinary administrator. He is capable of leading this building. He is highly intelligent, fair, and consistent in dealing with children and staff, and has earned the respect of those around him. He is truly deserving of the honor," Petty wrote in a nomination letter.
Other school system staff agree that Snow exemplifies leadership qualities and a strong commitment to student success. "Mr. Snow loves what he does, and it spills over into the lives of the students, the attitudes of our staff and the affairs of the community. Brad has always made it a primary objective to get to know each student personally and make them feel important. I can think of no one in our county or state that is more deserving of such an award," McDonough business education teacher Joan Rogers wrote in a nomination letter.
Westlake High School Principal Chrystal Benson has worked professionally with Snow for more than eight years and said that he is one of Charles County Public Schools "bright and shining stars" and well deserving of this award. "He has a keen sense of knowing when to take the leadership role and when to follow the lead of others. Brad is responsible and respected by all, and is more than capable of performing any task that is placed before him," Benson said in a nomination letter.
McDonough parents and students also wrote letters of support for Snow's award nomination that highlight his leadership skills, professionalism and friendly personality. Parent Lauren Tomlinson was apprehensive at first about her son attending McDonough because he attended private school for most of his previous academic career. She said it was Mr. Snow's compassion and patience with students that helped ease her fears. "What I found when my son started at McDonough last year was an extraordinary man, Mr. Snow, who not only was the vice principal of a wonderful school, but a man who shows compassion, empathy and patience working with students to achieve their goals," Tomlinson wrote in a nomination letter.
Tyler Wilkinson, a senior at McDonough, said Snow is an exceptional role model and father figure for students. "Through the past four years, Mr. Snow has been a mentor to me. He has showed me that integrity and dedication is key to success. Mr. Snow is an honest man that will have your back no matter what," Wilkinson wrote in a nomination letter.
Mentoring students and teaching them values is what Snow says working with children is all about. "A teacher or administrator must be a great communicator to be an effective educator. It is not enough to be an expert in your field; we must create value to students through the means by which material is offered. This can be seen every day at McDonough, where our faculty is involved in the lives of our students and each expresses a true interest in them as individuals," Snow said.
Snow began his teaching career with Charles County Public Schools at McDonough in 2000 as a health teacher, and also taught biology and earth science classes. Before he joined the administrative team, Snow also helped write health curriculum, served on the textbook selection panel, coached varsity baseball and girls' soccer and was a member of the aspiring leadership and minority achievement committees. He received the Maryland Higher Education Commission's Christa McAuliffe Teacher Award in 2001 and was named a vice principal at McDonough in 2004.
He is the Positive Behavioral Interventions and Supports (PBIS) coordinator and also works with McDonough's Relay for Life and Schools for Schools programs. Snow is an active member of the principal's advisory committee and serves as a special education Individualized Educational Plan (IEP) administrator. He is also an evaluation chair person for the Middle States Commission on Secondary Schools (MSCSS) accreditation process.
Outside of the school, Snow is active in his community YMCA location and plays on his church's softball team. He plans to implement an after school weight training program for non athletes next school year to help students build confidence and self respect.
He received a bachelor's degree in health education from Cortland State University in 1997 and a master's degree in education from McDaniel College in 2004.
Snow was honored by the Board of Education on June 1. The Board honors one outstanding vice principal each year.