LA PLATA, Md. (June 29, 2010) - The Charles County Sheriff's Office today released the following incident and arrest reports.
BOAT ENGINE STOLEN: On June 28 at 5:00 a.m., officers responded to Ann Drive in La Plata for the report of a stolen boat engine. Investigation revealed sometime between June 27 at 7 p.m. - June 28 at 5 a.m., unknown suspects entered the victim's property by way of a canal, removed a boat from a lift, put the boat in the water and took it to a secluded area where they removed the engine. The victim recovered his boat but the engine was stolen. Officers canvassed the area and processed the scene for evidence. Officer I. Bier is investigating.
SECOND-DEGREE BURGLARY: On June 26 at 8 a.m., officers responded to the 15000 block of Pointe Meadow Court in Brandywine for the report of a burglary. A preliminary investigation revealed unknown suspects broke into an unlocked shed and stole two motorcycles. Officers canvassed the area and processed the scene for evidence. Officer D. Walker is investigating.
DETECTIVES RECOVER STOLEN MUSICAL INSTRUMENTS: On May 26, officers received a report of a theft in the 2800 block of Cornflower Lane in Waldorf in which several musical instruments were stolen. Detectives located the equipment - which had been pawned - and developed information regarding the suspects. A search warrant was served at a house in Ft. Washington where detectives recovered more evidence. The case is still under investigation. Detective McKenzie is investigating.
SHERIFF'S OFFICERS ASSIST GREENBELT POLICE IN LOCATING MURDER SUSPECT: On June 25 at 9:30 a.m., Charles County Sheriff's officers assigned to Judicial Services, COPS, Patrol, Special Operations and the K-9 assisted Greenbelt City police in locating Rydell Lee Estep, 20, of Greenbelt, who had an open warrant through Greenbelt City police for murder. Estep was located at a house in the 9500 block of Blue Lake Place in White Plains. He was arrested without incident and turned over to Greenbelt City police.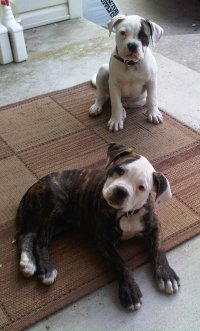 STOLEN PUPPIES: The Sheriff's Office is investigating the theft of two American Bulldog puppies from the backyard of a residence in the 2800 block of Holyhead Court in Waldorf and Charles County Crime Solvers is offering a reward for information about the case. The theft occurred between 5 p.m. and 11 p.m. June 19. The victim left the puppies in the backyard, which is secured by a six-foot privacy fence, and returned several hours later but the puppies were missing. After conducting a thorough search of the property, the victim confirmed the puppies had no means of escape and reported them stolen. The female dog, Stoney, is described as being white and brindle in color. Her right front paw is white and her last toenail on her left front paw is black. The male dog, Samson, is described as mostly white with brindle patches on his left eyes and paws. The puppies are 9 weeks old and had not yet been micro-chipped.
Charles County Crime Solvers offers rewards of up to $1,000 for information about a crime in Charles County that leads to an arrest or indictment. Anyone with information about a crime may contact Crime Solvers at 1-866-411-TIPS or Text CHARLES + your tip to CRIMES or visit WWW.CCSO.US to submit a web tip. All callers remain anonymous.