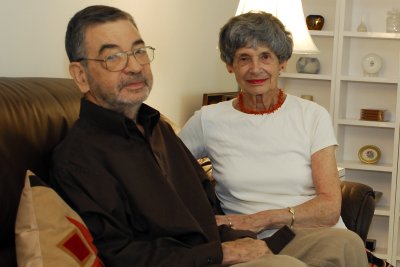 Alvin and Ellen Cohen of Waldorf donated more than 1,500 compact discs with classical and opera compositions spanning 500 years to the College of Southern Maryland. (Submitted photo)
LA PLATA, Md. (June 29, 2010)—Alvin Cohen and his wife Ellen stand in front of sparsely adorned custom-made, white-cube bookcases in their modest ranch home in the Sun Valley section of Waldorf. Retired after 40 years as an economics professor at Lehigh University in Bethlehem, Penn. and living in Southern Maryland, Alvin Cohen thought it was time to share his music, again--and to free up some shelf space. The couple's bookshelves, once home to more than 1,500 compact discs of classical music bound for libraries on the La Plata, Leonardtown and Prince Frederick campuses of the College of Southern Maryland, are now a reflection of 52 years of travel and memories together.
The Cohens had been scrambling to find some art pieces or travel mementos to display, said Ellen Cohen, when she found souvenirs to fill the spaces that were once home to their vast collection of classical music.
Like he had done years earlier with his vinyl record collection, Alvin Cohen donated his extensive CD collection to an academic institution's library. "We wanted some other people to enjoy the music," he said of giving up his collection. "We have a stereo system that is tuned to the Washington classical music station and [the radio hosts] do very well."
While at Lehigh, Alvin Cohen donated "boxes and boxes," of vinyl records. "They had a music listening room with turntables, and I had a shelf space problem," he said. He had been encouraged to try CDs by a colleague, but didn't make the switch until he took note of the shelf space savings of the smaller 'compact' discs, he said.
The Cohens' CD collection is especially valuable to CSM because of the number of composers it includes, according to CSM Music Professor Dr. Stephen Johnson. "Mr. Cohen collected only one recording of each piece of music by individual composers. He did not duplicate individual pieces performed by different orchestras for different interpretations. He has collected composers of music that I have never even heard of," said Johnson who has a doctorate in music history and theory and has taught at CSM for five years.
The collection spans nearly 500 years of music from the 16th century to the 21st century, said Alvin Cohen, adding that many of the composers are not household names.
"I intentionally didn't choose two performances or two interpretations of any one [composition]," he said. "I wanted to maximize the number of selections rather than just maximize the number of CDs. So, the collection has no duplicates. Some people would lament that, because you learn a lot from different interpretations of the same composition and because every performer brings something unique."
Explaining his process to avoid duplications, Alvin Cohen said, "I would take the Schwann Catalogue [of monthly record listings] and look for composer names that had maybe two lines of listings rather than someone like Bach who had 15 pages of listings. Obscure things."
He began collecting CDs in the mid-1980s, but his enjoyment of music began well before then. As a child growing up over his family's grocery store in southeast D.C., Alvin Cohen begged his parents for piano lessons. Following two years of lessons, his music teacher informed his mother, "You are wasting your money, he will never, ever, learn to play," he recalled, adding that the lessons stopped abruptly-but not his love of classical music.
In graduate school at Columbia University, Alvin Cohen recalls he and three buddies took turns standing in line at the box office for tickets to that week's performance at the Metropolitan Opera House.
During a luncheon at the Chilean-American Institute in Santiago, while he was there studying economic development on a Fulbright grant, he met his wife, whose family had emigrated from Germany to Chile in 1939. During the lunch, she learned of his love of music and offered him a ticket to join her at a local performance of the opera Il Trovatore.
"It was comical, but they didn't mean for it to be," said Ellen Cohen, explaining that the leading man kept stepping on his sword. "I was proud that I could offer this ticket, but then I felt awkward because [the performance] was so terrible," she said.
"The voices were lovely, but it was incongruous. Every time [the leading man] took his hat off and turned, he would step on his sword. And when [the leading lady] was turning around, she was stepping on the hem of her gown. It was difficult not to laugh, but you had to laugh," Alvin Cohen said.
And so the Cohens' courtship began.
Over their five-plus-decades together, the couple has collected souvenirs and photos of their travels as well as items from their family's history. On a wall of prominence in their living room, instead of hundreds and hundreds of music CDs, the couple shows off figurines, geological artifacts, glassware and carvings. Where a collection of Mozart once sat is a miniature plate from the Ludwigsburg, Germany porcelain factory, a memento from an emotional trip to Ellen Cohen's birthplace.
The bright white bookshelves in their living room still have many open display areas to hold mementos from new and happy experiences. Both in their 70s, the Cohens are enjoying their retirement with local travel, visits by their daughters and grandchildren, and with music.
Only now, they listen to the selections made for them by a radio host.
The majority of the Cohens' classical music collection will be housed in the Dr. Elaine Ryan Library on the La Plata Campus, where CSM Cataloger Joyce Hohn is preparing each CD for check-out. Both the Leonardtown and Prince Frederick campuses will also receive music for their libraries.
For information on the collection, or other resources available at CSM's libraries, visit www.csmd.edu.