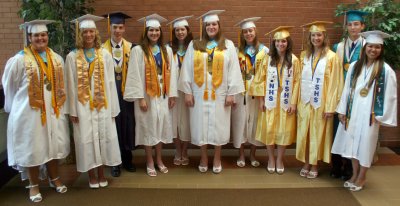 Valedictorians and salutatorians for the Class of 2010 are, back row from left: Holly Olson, Henry E. Lackey High School valedictorian; Ashley Sparks, Lackey's salutatorian; Tyler Fini, La Plata High School valedictorian; Brooke Prince, La Plata's salutatorian; Shelby Clarke, Maurice J. McDonough High School valedictorian; Meagan Jezek, McDonough's salutatorian; Sylvie DeLaHunt, North Point High School valedictorian; Abigail Thomas, Thomas Stone High School valedictorian; Christin Waltersdorff, Stone's salutatorian; John Buntz, Westlake High School valedictorian; and Krystle Canare, Westlake's salutatorian. Not pictured is To-Lam Nguyen, North Point's salutatorian. (Submitted photo)
LA PLATA, Md. (June 29, 2010)—Charles County Public Schools honored 2,090 seniors on June 7 and June 8 during graduation ceremonies for six high schools. Students in the Class of 2010 were offered nearly $37 million in scholarships.
Valedictorians and salutatorians were announced last week at awards ceremonies. These positions are determined by students' grade point averages and represent the top academic achievers at each school.
Henry E. Lackey High School's valedictorian is Holly Marie Olson of Nanjemoy and the salutatorian is Ashley Renee Sparks of Bryans Road. Olson plans to attend Missouri University of Science and Technology, where she will major in mechanical engineering. Sparks will attend Millersville University of Pennsylvania and major in math education.
La Plata High School's valedictorian is Tyler Fini of La Plata and salutatorian is Brooke Prince of Newburg. Fini plans to attend the University of Pennsylvania and major in chemical engineering. Prince is headed to the University of California in Los Angles where she will major in English, film and television.
Shelby Clarke of Pomfret is Maurice J. McDonough High School's valedictorian, and Meagan Jezek of Pomfret is salutatorian. Clarke plans to continue her education at the University of Maryland, Baltimore County and major in graphic design. Jezek will major in biology and environmental/marine science at Salisbury University.
North Point's valedictorian is Sylvie DeLaHunt of Waldorf and the salutatorian is To-Lam Nguyen of Waldorf. Both students plan to attend the University of Maryland, College Park. DeLaHunt plans to major in engineering and Nguyen's major will be biology.
Representing Thomas Stone High School are Abigail Thomas of Hughesville as valedictorian and Christin Waltersdorff of Waldorf as salutatorian. Thomas will attend Washington College and major in biology. Waltersdorff will attend the College of Southern Maryland and major in communications.
Westlake High School's valedictorian is John Karl Buntz of Waldorf and salutatorian is Krystle D. Canare of Waldorf. Buntz plans to major in accounting at Salisbury University. Canare plans to attend the University of Maryland, College Park and major in biology.
2010 GRADUATION NUMBERS BY SCHOOL
Henry E. Lackey High School
-- Total graduates: 303
-- Total scholarship money offered: $4,000,000
La Plata High School
-- Total graduates: 328
-- Total scholarship money offered: $6,442,516
Maurice J. McDonough High School
-- Total graduates: 286
-- Total scholarship money offered: $5,375,426
North Point High School
-- Total graduates: 490
-- Total scholarship money offered: $9,947,169
Thomas Stone High School
-- Total graduates: 348
-- Total scholarship money offered: $5,624,315
Westlake High School
-- Total graduates: 335
-- Total scholarship money offered: $5,559,263
Charles County Public Schools Totals
-- Total graduates: 2,090 (graduation totals include 22 students who were honored during graduation ceremonies with the Maryland High School Certificate, which is awarded to special education students who cannot meet the requirements for a diploma but who have met standards for the certificate)
-- Total scholarship money offered: $36,948,689