Chautauqua Opens Series at Each Campus July 6, 7, 8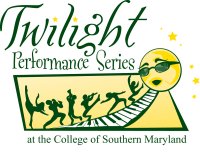 LA PLATA, Md. (June 29, 2010)—The Twilight Performance Series sponsored by the College of Southern Maryland (CSM) returns this summer with a new line-up to include a bit of history and music. The free family-friendly series will feature artists performing a variety of music from bluegrass and folk to blues and rock and roll, to Latin Jazz at campuses in La Plata, Leonardtown and Prince Frederick.
Performers will be at the Leonardtown Campus on Tuesdays, July 6, 13, 20 and 27; at the La Plata Campus on Wednesdays, July 7, 14, 21 and 28; and at the Prince Frederick Campus on Thursdays, July 8, 15, 22 and 29. All performances will begin at 6:45 p.m.
The annual Chautauqua program will kick off the series July 6-8 with each of CSM's campuses featuring a different historical character. An educational program of the Maryland Humanities Council, Chautauqua is presented in partnership with CSM and includes opening musical acts at 6:45 p.m., followed by performances from Chautauquan actors who portray historical figures.
The theme for this year's Chautauqua is "Borders, Boundaries and Barriers," and features the historical portrayals of former Supreme Court Justice Thurgood Marshall on the Leonardtown Campus, landscape architect Frederick Law Olmstead Sr. on the La Plata Campus and Native American guide and explorer Sacagawea on the Prince Frederick Campus.
Twilight performances continue the subsequent weeks with the Fitzmaurice Band, Terence McArdle and Big Trouble, and Alegria.
Formed in 2006 by identical twins Maria and Sarah Fitzmaurice, Brandon Snelling and Mike Simms, the Fitzmaurice Band has a unique style with influences from bluegrass, country, jazz, classical and international folk and classic rock. In addition to providing vocals for the group, Maria Fitzmaurice plays the guitar and Sarah Fitzmaurice plays the bass. Snelling plays the mandolin, with Simms on the banjo and Aaron Malone on the fiddle. The Fitzmaurice Band performs on July 13, 14 and 15.
Based out of Washington, D.C., Terence McArdle and Big Trouble started in 1992 evolving from a harmonica- dominated Chicago Blues style to an infusion of blues, swing, be-bop and classic rock and roll. The members of band have shared the stage with artists such as James Cotton, Little Jimmy King and Smokey Wilson. Terence McArdle and Big Trouble perform on July 20, 21 and 22.
Alegria, a Virginia-based trio consisting of guitarist Peter Richardson, bass player Bob Bowen and drummer Drex Weaver, infuses Brazilian, Cuban, Caribbean, Latin and African drum beats in its eclectic style. Richardson, an alumnus of the Duke Ellington School of the Performing Arts, studied under classical guitarist Eduardo Campolina to develop knowledge of the Brazilian Bossa Nova sound. Bowen holds a music business degree from Radford University and has performed with artists such as Royce Campbell, Jeff Decker and the Lynchburg Symphony Orchestra. Weaver, a graduate of the Berklee College of Music where he learned African percussion techniques, has worked on the West Coast as a studio musician and freelance drummer. Alegria closes out the series with performances on July 27, 28 and 29.
Sponsors for this year's Twilight Performance Series are premier event sponsor Maryland Bank & Trust; grand sponsors All American Harley-Davidson, Comcast Bay Shore Group and Computer Science Corporation (CSC); and major sponsors Bayside Toyota, Buddy Sprague, Community Bank of Tri-County and the CSM Foundation. The series is also sponsored by the Maryland Humanities Council and is made possible in part by a grant from the St. Mary's County Arts Council, the Arts Council of Calvert County, the Charles County Arts Alliance and awarded by the Maryland State Arts Council.
For information on sponsorships of CSM's arts programs call 301-934-7649 or 301-870-2309, 240-725-5499 or 443-550-6169, Ext. 7649 or visit www.csmd.edu/foundation/events/.
In the event of inclement weather, performances will move indoors. On the La Plata Campus performances will move to the Fine Arts Center, on the Leonardtown Campus to the Building A, Auditorium, and on the Prince Frederick Campus to Room 119.
For information on the Twilight Performance Series call 301-934-7828 or 301-870-2309, 240-725-5499, or 443-550-6169, Ext. 7828 or visit www.csmd.edu/arts/.
CSM's campuses are accessible to patrons with disabilities. Audio description for the visually impaired and sign language interpretation for the hearing impaired are available with a minimum two week advanced notice. If you are interested in these services, please contact the academic support/ADA coordinator at 301-934-7614.