Fireworks follow the concert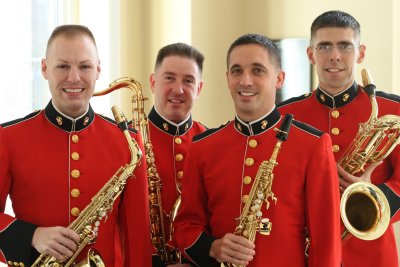 The U.S. Marine's Saxophone Quartet will herald Independence Day at the July 2 River Concert.
ST. MARY'S CITY, Md. (June 28, 2010)— Begin your Fourth of July celebration at the Friday, July 2, River Concert at St. Mary's College of Maryland (SMCM) with heroes and with fireworks. "It will feature patriotic music and music that fills the imagination with heroes," said Jeffrey Silberschlag, music director of the River Concert Series and the Chesapeake Orchestra. Guest musicians include the Marine Saxophone Quartet, comprised of members of "The President's Own" U.S. Marine Band, and a winner of the Young Artist Concerto Competition, Ian Chaava, on the euphonium. Also featured is a Gershwin piano concerto with award-winning pianist Brian Ganz.
The weekly celebrations on the college's Townhouse Green continue every Friday through July 30 with world-class music and a variety of food from local vendors. Gates open at 5 p.m. and concerts start at 7 p.m. These outdoor concerts are free and open to the public, and picnic baskets are welcome.
The Marine quartet performs at the annual Chamber Music Series in John Philip Sousa Band Hall and at educational venues across the country.
Ganz, one of the leading pianists of his generation and on the SMCM faculty since 1986, is a guest artist for the 2010-2011 season of the National Philharmonic at the Music Center at Strathmore in Rockville, Maryland where he will perform Grieg's Piano Concerto and begin his multi-year project to perform the complete works of Frédéric Chopin.
Silberschlag, also music director and conductor of the Italy&USA Alba Music Festival, has recorded with the London Symphony, London Philharmonic, Seattle Symphony, Royal Liverpool Philharmonic, Warsaw Philharmonic, and Czech Radio Orchestra. His performances have been hailed by European critics as thrilling, compelling, and outstanding. Silberschlag has collaborated with such artists as Hilary Hahn, Lara St. John, Terence Blanchard, the Ahn Trio, and Jane Monheit.
For more information, visit
www.riverconcertseries.com
or call 240-895-3038.