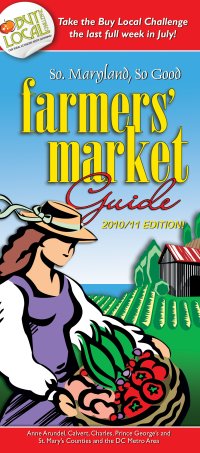 HUGHESVILLE, Md. (June 26, 2010)—The 2010-11 So Maryland, So Good Farmers' Market Guide is now available through the Southern Maryland Agricultural Development Commission (SMADC). The new guide includes 29 Southern Maryland Farmers' Markets located in Anne Arundel, Calvert, Charles, Prince George's and St. Mary's counties as well as other markets in Washington DC and Virginia that feature Southern Maryland farm vendors.
The Farmers' Market Guide lists the market contact details, location and the days and hours of operation; additionally individual market Web site addresses are included so that consumers can find out more about their local markets. Many market Web sites now offer weekly newsletters with information on their farmers and their growing practices, plus weekly 'what's new at market' produce updates and great recipe ideas for fresh farm foods.
The Farmers' Market guide also features a unique regional harvesting chart that makes it easy for Southern Maryland residents find out when seasonal favorites will be available at their most delicious peak. Southern Maryland's markets offer a wide range of farm products year round including produce, meats, eggs, cut flowers and potted plants, local honey, jellies, jams and baked goods. A trip to a farmers' market makes a wonderful family outing and is a great way to teach children about healthy eating habits and how important farms are to our communities and the environment.
The handy hardcopy version of the guide is free and available while stocks last at Southern Maryland farmers' markets and regional public libraries, or call (301) 274-1922 for a list of additional pick-up sites. The digital version of the guide can be downloaded at
www.somarylandsogood.com
or
www.smadc.com
.
The Farmer's Market Guide is one of many resources created by SMADC in support of regional agriculture to assist local farm-based businesses in their continued growth and commercial viability. A related effort is the upcoming state-wide Buy Local Challenge Week (July 17 - 25). Marylanders are challenged to pledge to eat at least one locally grown item per day for a week. To participate in the Buy Local Challenge, visit
www.buy-local-challenge.com
for more information and links to local farms, farmers markets, menu ideas and shopping tips, and special Buy Local Challenge Week events.
The Southern Maryland Agricultural Development Commission (SMADC) was established to promote diverse, market-driven agricultural enterprises, which coupled with agricultural land preservation, will preserve Southern Maryland's environmental resources and rural character while keeping the region's farmland productive and the agricultural economy vibrant. To learn more about additional programs and resources, contact SMADC, P. O. Box 745, Hughesville, MD 20637; phone: 301-274-1922; fax: 301-274-1924; email cbergmark@smadc.com; or visit www.smadc.com.