Sheriff says citizens have right to record police in public in most cases; Incident is under internal investigation; Citizen says she is now fearful of police.
By Guy Leonard, County Times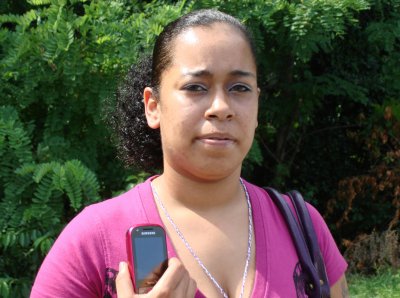 Yvonne Shaw holds the cell phone she used to publicly record police who responded to an incident in her neighborhood. Ms. Shaw was arrested by Cpl. Patrick Handy of the St. Mary's County Sheriff's Office for "illegally intercepting his communication via cell phone camera." Shaw said that she began recording Handy and another deputy because he was cursing at her friend repeatedly and treating her in a disrespectful manner.
LEONARDTOWN, Md. (June 24, 2010)—In the wake of an incident that involved the arrest of a woman who recorded a sheriff's deputy with her cell phone during a noise complaint call more than a week ago, State's Attorney Richard Fritz has said he will drop the charges against the defendant in the case.
Fritz said that in most cases police operating in the public have a reasonable expectation of being recorded; he added that the officer likely had probable cause to make the arrest for intercepting his communications but proving that in court beyond a reasonable doubt was unlikely.
Fritz, who said he did not view the cell phone recording made by Yvonne Shaw, said that from the charging documents he read the officer in question, Cpl. Patrick Handy, did nothing wrong in disbursing a disturbance June 12.
"I believe he was doing everything right," Fritz told The County Times Wednesday.
Shaw, 27 of Great Mills, was relieved at the news.
"I'm very pleased at that; I didn't think that I had done anything wrong," Shaw said.
Sheriff Timothy K. Cameron also has said that citizens have the right to record events in public, including those that involve police officers, in most cases.
Cameron said there were cases where it was inappropriate for police to be recorded via either camera or by voice, such as when they were taking witness statements, but while in public there was a reasonable expectation that they might be recorded.
Cameron said that he had been seeking funding for years to get cameras installed in patrol cars to record events that could prove the innocence or guilt of an officer that had a complaint filed against them."
I'm adamantly in favor of it," Cameron said.
Cameron said that the incident that resulted in Shaw's arrest by Handy for her recording his interaction with members of the Colony Square community in Lexington Park was continuing.
According to charging documents, Handy arrested Shaw for allegedly illegally intercepting his communication via cell phone camera June 12 and that she was making the recording to try showing police were harassing citizens.
Cameron said it was too early in the investigation to comment on whether Shaw's arrest was inappropriate or whether the deputy should have confiscated her cell phone.
For her part, Shaw said the incident had left her fearful of the police.
In an interview Monday Shaw said that she began recording Handy and another deputy because she claimed that he was cursing at her friend repeatedly and treating her in a disrespectful manner.
When another deputy noticed that Shaw was recording Handy and his alleged profanities, Shaw said he came up to her and snatched the cell phone away and attempted to access the recordings on the phone.
"Handy was being so nasty that he didn't notice I was recording him," Shaw told The County Times. "He was in my phone for like 10 minutes."
Shaw said that she has spoken with police investigators since the incident but declined to say exactly what those conversations were about. Cameron confirmed that investigators have been in contact with Shaw about the incident.
"To be honest I'm kind of scared," Shaw said. "But you shouldn't be afraid of the police.
"It's really too much for me."
Cameron said the case was a priority for investigators to complete.
"This case is important," Cameron said. "I think the public is keen to see what happens.
"She's got no reason to be afraid of him [Handy] or the police. But we're aware of allegations from her and others."
Cameron said that officers are not supposed to use profanity generally in the course of their duties.
"That's not the conduct you want from your personnel," Cameron said.
But the area that Shaw was in on the night her cell phone was seized has been a concern for police, Cameron said, and needed greater enforcement efforts to combat drug dealing, vagrancy, public alcohol consumption and trash dumping.
"There are a lot of problems there," Cameron said, adding that residents there had pleaded with his agency for police help. "That community is being held hostage to a degree."
RELATED INFORMATION
Maryland prosecutors hold different interpretations of state's wiretapping law
, Photography is Not a Crime Web site, June 24, 2010