Search Continues for Second Suspect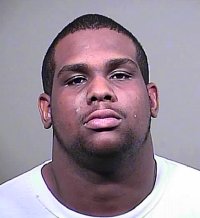 Terrell Edward Marcus Poe, 23, of Waldorf, was arrested in connection with a May 19 home invasion in Waldorf. (Arrest photo)
LA PLATA, Md. (June 10, 2010)—Charles County Sheriff Rex W. Coffey said detectives arrested Terrell Edward Marcus Poe, 23, of Waldorf, and identified a 15-year-old suspect in connection with a home invasion and armed robbery that occurred on May 19 at 10:30 a.m. when two suspects forced their way inside an apartment in the 2000 block of Amberleaf Place in Waldorf. At gunpoint, the suspects demanded drugs, money and guns. They searched the apartment, stole clothes, video game consoles and money and fled in a white Ford Escape SUV. Detectives responded and began pursuing a number of leads.
On May 25, detectives were investigating a residential burglary in the 1100 block of Hamlin Road when they observed a white Ford Escape SUV traveling on the roadway with a juvenile standing on the rear bumper. Detectives identified the occupants and subsequently linked the SUV and several occupants to the robbery on Amberleaf Place.
On June 3, detectives arrested Poe at his residence on Hamlin Road. He was transported to the Charles County Detention Center where he was charged with three counts of armed robbery, attempt armed robbery, use of a handgun during a violent crime, burglary, assault, theft and false imprisonment. He was remanded to the detention center with a $500,000 bond.
Detectives are attempting to locate the 15-year-old suspect who currently has no fixed address. The investigation is ongoing.