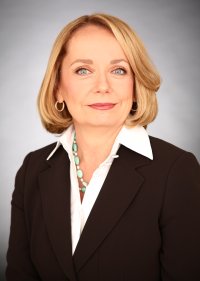 New Chair of the SMCM Board of Trustees Molly Mahoney Matthews. (Submitted photo)
ST. MARY'S CITY, Md. (May 19, 2010) — The St. Mary's College of Maryland Board of Trustees voted to appoint Molly Mahoney Matthews as new Chair effective October 8. The Board also announced three additional officers: Benjamin Bradlee, Vice Chair; John Wobensmith '93, treasurer; and Lawrence "Larry" E. Leak, Ph.D. '76, secretary. Current Board of Trustees Chair James P. Muldoon will remain on the Board.
"I know that Molly brings passion and dedication to the position of Chair, as well as superb skills, which were clearly demonstrated by her leadership of the presidential search team," said Muldoon.
Matthews has already set goals for her tenure. "High on our list of priorities is identifying resources to support our exceptional faculty, staff and students, increasing interaction with the internal and external college community and strengthening the national identity of St. Mary's College of Maryland," said Matthews.
Matthews has a distinguished 25-year career in marketing and communications. In 1987, she founded Matthews Media Group (MMG), which has become a market leader in developing and implementing social marketing and national awareness campaigns for the National Institutes of Health, the Department of Health and Human Services, and Fortune 100 companies. During Matthews' tenure as CEO The Washington Business Journal ranked MMG number 4 among public relations firms in the Washington, D.C. area and PR Week ranked MMG in the top 35 of public relations firms nationwide. The Omnicom Group acquired the company in 2000. She recently founded The Starfish Group, a marketing consulting firm specializing in health care, education and the environment. She is also chairperson of The Children's Inn at the National Institutes of Health.
Matthews, who joined the Board in 2002, is the second woman to hold the position. Eleanor Diggs Harrington was appointed Chair in 1979.
Bradlee is vice-president-at-large for The Washington Post, a position he has held since his retirement from the company in 1991. Bradlee's 29-year career with The Washington Post began in 1948 when he joined the staff as a federal court reporter. He was a foreign correspondent and Washington bureau chief for Newsweek, before returning to the Post. From 1965 to 1968, he was managing editor of the newspaper, and from 1968 to 1991, he served as executive editor. Bradlee is perhaps best known for inspiring 18 Pulitzer Prize-winning reporters including those responsible for covering Watergate in 1974.
Wobensmith serves as chief financial officer and principal accounting officer for Genco Shipping & Trading Limited, an international shipping company. The company transports iron ore, coal, grain, steel products and other dry bulk cargoes along worldwide shipping routes. Wobensmith is responsible for overseeing the accounting and financial matters of the company and has more than 11 years of experience in the shipping industry, with a concentration in shipping finance. He has a bachelor's degree in economics from St. Mary's College of Maryland, and holds the chartered financial analyst designation. While at St. Mary's Wobensmith was a member of the varsity sailing team.
Leak graduated from St. Mary's College in 1976 with a degree in social science. He went on to earn a doctorate degree in educational administration and supervision at the University of Maryland. Leak started his professional career as a social studies teacher at Great Mills High School in St. Mary's County. He went on to become principal of Manassas Park High School in Virginia before becoming an assistant professor at the University of Maryland in College Park. Leak became the vice provost for academic affairs at the University of Maryland, University College in 2003 and served as acting provost and chief academic officer (2005-2006) and interim provost and chief academic officer until his retirement in December 2007 after 30 years in the education profession. Leak has been a member of the Historic St. Mary's City Commission since 1998, serving as liaison to the St. Mary's College Board of Trustees since 2005.