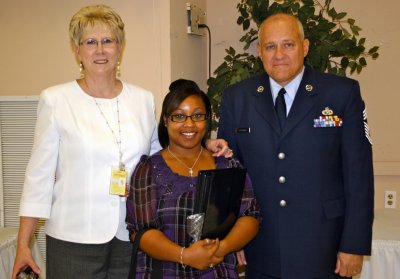 Bria Page, center, receives congratulations from her Cooperative Education teacher Pamela Lightfoot, left, and her supervisor Chief Master Sgt. Ronald Sizemore, right, of the National Guard Bureau at Andrews Air Force Base. (Submitted photo)
LA PLATA, Md. (May 13, 2010)—Bria Page, a senior at North Point High School in Waldorf, was named as the Cooperative Education Student of the Year for 2010 at the annual employer/employee breakfast.
Page, an employee at the National Guard Bureau at Andrews Air Force Base, was nominated for the award by her supervisor Chief Master Sgt. Ronald Sizemore and selected following three levels of competition both at the school and county levels. Committees composed of staff members, community members and business representatives interviewed students.
"By participating in the Cooperative Education program, I have gained life skills that I will be able to carry with me throughout the rest of my life. Co-op has taught me to have a strong work ethic; you cannot get anywhere in life without focus, determination, and good old-fashioned hard work," Page said.
Pamela Lightfoot, Cooperative Education teacher, said Page is a hardworking student and a leader with a positive attitude. She said she sets an outstanding example for others students and she has high academic standards and integrity.
Other award finalists are Terese Branson of Henry E. Lackey High School, Trent Fowler of Maurice J. McDonough High School, Kayla Schliep of Thomas Stone High School and the Robert D. Stethem Educational Center, and Kyera Copeland of Westlake High School.
Employers and student employees gathered at the Greater Waldorf Jaycees Community Center on April 29 for the annual Charles County Public Schools Cooperative Education Employer-Employee Breakfast.
The Cooperative Education program provides a bridge from school to work and provides classroom instruction along with work experience and on-the-job training related to a student's career goals. Approximately 200 students throughout the county participated in the program this year.
Started in 1971 at La Plata and Lackey high schools, cooperative education expanded to Thomas Stone in 1972, and to McDonough in 1979. Westlake started offering the program in 1998. North Point launched the program in 2009 with its first senior class.