Assault Was Recorded by One Suspect on His iPod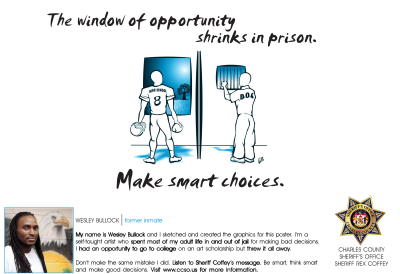 Serious juvenile crime has been on the rise in Charles County in recent years. This poster, created by an inmate at the Charles County Detention Center, is part of the Sheriff's attempt to educate misguided youth about the consequences of committing crimes against their fellow human beings. (Click to enlarge)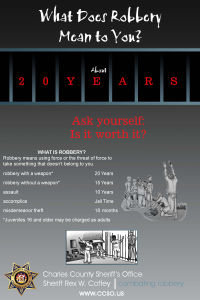 Another poster designed to make misguided youth think twice before committing a crime. (Click to enlarge)
LA PLATA, Md. (May 13, 2010)—Charles County Sheriff patrol officers arrested two 14-year-old males and a 13-year-old male in connection with a robbery and assault that occurred on May 5 in the 400 block of University Drive in Waldorf. The assault was videotaped by one suspect using an iPod as the other suspects robbed the victim of his backpack. Police have decided not to release the video.
Sheriff Rex Coffey said he is proud of the work performed by the patrol officers but disturbed by the actions of the suspects. "This case is troubling in that the suspects committed a crime of violence, assaulted someone and actually thought to record it. Law enforcement agencies across the country are seeing more and more of these crimes that, for whatever reason, kids are videotaping," said Coffey.
It's crimes like these that compel Sheriff Coffey to pay a personal visit to all incoming freshmen classes at each of the county's six high schools at the beginning of every school year.
"We have a message to our youth and that is to think twice before committing a crime. Think about the consequences which could be serious. I tell the kids that the choices they make today will affect them the rest of their lives. A bad choice could prevent them from finishing school or moving on to college or landing that job they always wanted," said Coffey. "I don't want to see another teen waste their life by making bad decisions."
In this case, the suspects were charged as juveniles; however, they could be waived up and charged as adults where they could face a penalty of up to 15 years in jail.
The incident occurred at 5:30 p.m. when the suspects, who live in the same neighborhood as the victim but do not know him, approached the victim near a basketball court and tried to engage him in an argument. The victim, 13, packed his belongings and attempted to walk away but the suspects attacked him, striking him in the back of his head. One of the suspects recorded the assault on his iPod as the other two suspects stole the victim's backpack. All three suspects fled the scene on foot. The victim called police and provided officers with a description. Patrol officers responded and quickly arrested one suspect who was located nearby. They recovered an iPod from the suspect and reviewed footage which showed the assault.
Officers later identified the other two suspects, a 14-year old male and a 13-year-old male, and arrested them the following day. All three suspects were charged with robbery, second-degree assault and theft.
Sheriff Coffey said he will continue to focus part of his crime-fighting strategies on educating young adults on crime and consequences. Last year Sheriff Coffey initiated an anti-robbery campaign geared toward teens. Through a series of posters—created by an inmate at the Charles County Detention Center—as well as public service announcements and interviews, Sheriff Coffey explained the consequences of committing a theft or robbery and he emphasized the importance of making good decisions for a better life.
"I'm committed to making a difference for our kids and I strongly encourage everyone to talk to their children about the consequences of committing these very serious crimes," said Sheriff Coffey.