Suspect Linked to Other Thefts in Region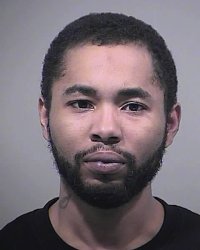 James Kevin Butler, 29, of Southeast, Washington, D.C. was arrested in Charles County in connection with a robbery and a number of thefts of electronics throughout the region. (Arrest photo)
LA PLATA, Md. (May 12, 2010)—Charles County Sheriff's officers and La Plata Town police arrested James Kevin Butler, 29, of Southeast, Washington, D.C., after linking him to a robbery and theft that occurred on April 13 at Target, 60 Shining Willow Way in La Plata. During the robbery, Butler allegedly approached an employee, placed an object to his back, and forcibly stole a set of keys to the electronics case and a walkie-talkie radio.
Butler's apprehension stemmed from a call to police after an employee of Target observed him enter the store on May 8 and attempt to use a set of keys to open the display case containing iPods and other electronics. The employee recognized Butler as the same suspect who robbed them a month earlier.
La Plata police—who handled the initial robbery—responded, but Butler fled in a black minivan. Responding Officers observed the van and attempted to stop Butler, resulting in a pursuit to the area of MD 228 at Beall Hill Road where the car became disabled. Butler jumped from the van and tried to flee but was apprehended a short distance away. Officers found evidence inside the van which linked Butler to the robbery.
Detectives from the Charles County Sheriff's Office and La Plata Town police have since linked Butler to several other thefts in which he stole thousands of dollars worth of iPods and navigation devices. He is also a suspect in similar thefts throughout the region.
Butler was charged with armed robbery and traffic related offenses and remanded to the Charles County Detention Center.