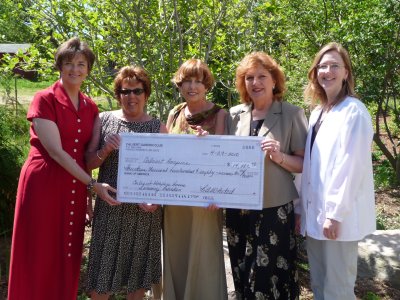 Pictured from left: Kendra Logan, Calvert Hospice Interim Director; Adele MacQuire, Calvert Garden Club Immediate Past President; Nancy Thompson, Calvert Garden Club President; Mary Somolinski, Calvert Garden Club Board Member; Tiffany Gaines, Hospice House Manager. (Submitted photo)
PRINCE FREDERICK, Md. (May 11, 2010)—On May 5, the Calvert Garden Club presented Calvert Hospice with a check for over $14,000 to fund the garden at the Burnett-Calvert Hospice House. Mary Oritt, former Calvert Hospice Board of Directors member, proposed the idea of contributing to the Hospice House at a garden club meeting in 2007 of which she is a member. The club voted to fund a Sensory Garden for patients and their loved ones to enjoy.
The Garden Club raised funds by hosting the Maryland Home and Garden Pilgrimage Tour in 2008. The Tour was chaired by Nancy Thompson, president of the Calvert Garden Club and co-chaired by Adele MacQuire, the Immediate Past President and Mary Somolinski, Board Member.
"When we heard about the building of the Hospice House, we wanted to somehow be a part of the project," said Thompson.
Mary Oritt, chairperson of the Calvert Garden Club project, worked with Molly Scott at McHale Landscaping to create the garden design. "We put a lot of thought into picking garden items that would provide scents and sights offering peace, comfort and a calmness to Hospice House patients and their visitors," said Oritt.
While the garden will not be in full bloom until mid-June, it is already a place of serenity with a stone pathway, a variety of plants and floating butterflies.
"We're very proud to have our name linked with the Burnett-Calvert Hospice House," said Thompson. "We plan to continue to support this important community resource."
Mary Oritt plans to submit the Burnett-Calvert Hospice House Sensory Garden project for a Maryland state award.
The Burnett-Calvert Hospice House is available on a first come, first serve basis to anyone in Calvert County living their final days with a terminal illness for whom care at home is not an option. Care is provided regardless of ability to pay. For more information, visit
www.calverthospice.org
.