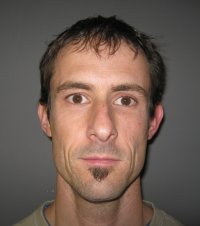 Jason Paul Hollinger, 36, of Lusby, was arrested Friday, April 30, and charged with having sexual conduct with a 14-year-old former student. (Arrest photo)
LEONARDTOWN, Md. (May 3, 2010)—A Margaret Brent Middle School teacher was arrested Friday after allegedly engaging in sexual conduct with a former student. The fourteen-year-old girl was a student of the man last school year, but is no longer attending the facility.
Jason Paul Hollinger, 36, of Lusby, was arrested at his home and charged with one count of Child Sexual Abuse and two counts of Fourth Degree Sex Offense. He is currently being held in the St. Mary's County Detention Center on a one-hundred-thousand dollar bond.
Hollinger was also placed on administrative leave on Friday by the St. Mary's County Superintendent of Schools, Michael Martirano.
The announcement of the arrest came today from both the Sheriff's office and the St. Mary's County Public School system (SMCPS). Press releases were distributed simultaneously.
School officials say they were contacted by the parents of the girl on Wednesday, April 28, who expressed their concerned that their daughter was involved in an inappropriate relationship with a staff member. School staff immediately initiated an investigation and notified the Sheriff's office of the allegations, according to the SMCPS press release.
The Sheriff's office acknowledges being contacted by school officials on April 28. The Bureau of Criminal Investigations (BCI), Special Victims Unit was subsequently assigned to investigate.
Detectives determined that Hollinger "engaged in sexual conduct" with the girl from April 2009 through March 2010. All incidents occurred off of school property, say police.
School officials took a defensive posture in their press release, stating: "SMCPS is proactive in pre-employment background screening of staff and annual training of current staff regarding inappropriate staff/student relationships. All SMCPS employees must complete a criminal background screening that includes a check of federal and state criminal records when they are hired. Once in our employment, they must attend an annual Child Abuse and Sexual Harassment (CASH) training, which incorporates a review of all related CASH SMCPS policies and laws - based on COMAR regulations and the requirement for reporting abuse and harassment. All employees must participate and document that they have completed the training on a yearly basis."
"[Hollinger] had completed all CASH trainings and his background check upon hiring was clear and free of any criminal activity or history," stated the press release.
Police are asking anyone who has further knowledge of this case to contact Corporal William Raddatz at the Sheriff's office on 301-475-4200, ext. 1958