Sophomore Signs National Letter of Intent to Attend St. Francis (Pa.) University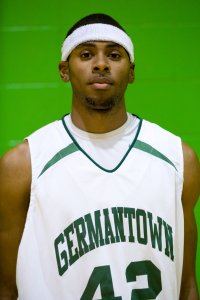 Jonathan Taylor.
GERMANTOWN, Md. (April 28, 2010)—Montgomery College-Germantown men's basketball player Jonathan Taylor, a 6-foot-8 sophomore, has signed a national letter of intent to attend St. Francis University in Loretto, Pa. Taylor was named a National Junior College Athletic Association (NJCAA) Division III Second Team All-American after leading the Gryphons to their first appearance in the Maryland JUCO Championship since 1993 and the Division III Region 20 championship.
"Jon's hard work has paid off and he works just as hard in the classroom as he does on the court," said head coach Xavier Joyner, the 2010 Division III Region 20 Coach of the Year. "Although he's accomplished a lot on the court, I am most proud of him being in position to attain his associate's degree from Montgomery College."
Taylor, who played high school basketball at St. Mary's Ryken in Leonardtown, Md., led the Gryphons in scoring at 17 points per game and rebounding at 11 per game. He was also named to the MD JUCO and Region 20 first teams. MC-Germantown (21-9) ended its season falling to Davidson County Community College (N.C.) in the NJCAA District 7 championship game.
After narrowing his choices down to St. Francis, Coppin State University, and Wright State University, Taylor selected St. Francis led by Head Coach Don Friday. The Red Flash are part of the Northeast Conference and finished 11-19 overall last season.